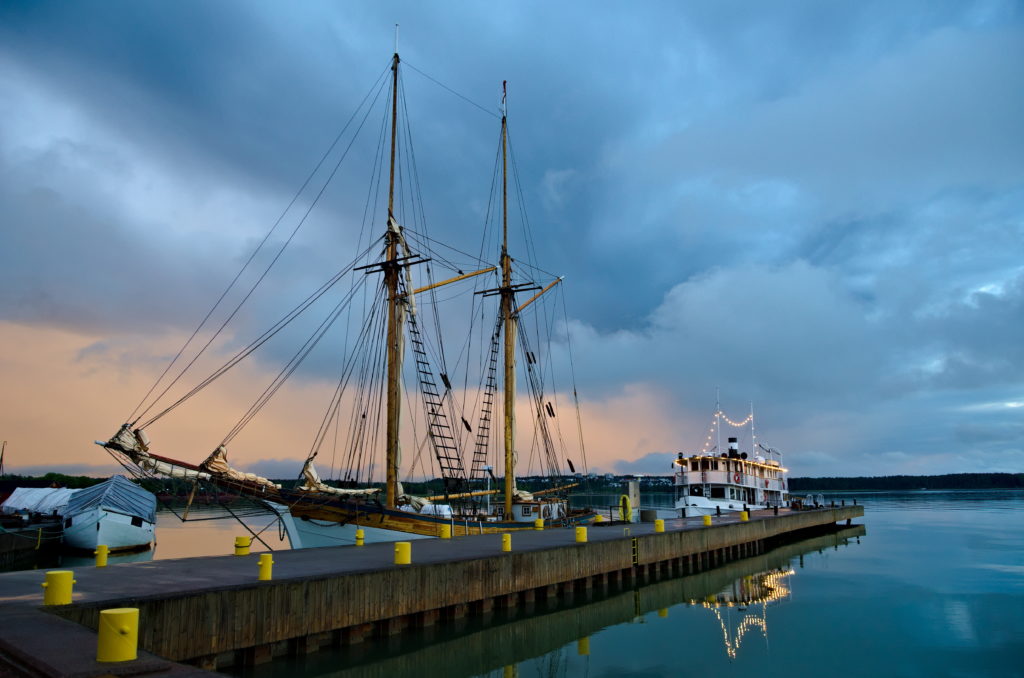 Mina Photographic Steps började med ett inköp av en begagnad Nikon D7000 med kit-linsen 18-200mm på. Det var i maj 2020. Den sista juli lade jag ut mitt första blogginlägg och jag har sedan dess försökt att få ut en blogg i veckan och en bild på Facebook varje dag. Nu har har det gått ett år och jag tänkte summera lite. Samtidigt tänkte jag visar en Facebookbild som jag gillar från varje månad, genom de inte har fått vara med i min fotoblogg.
Första bilden blir en klassisk vy från Mariehamn med båten Albanus. När jag åkte hem den kvällen färgades hela himlen rosa framför mig och jag tänkta att detta måste jag göra något med. Svängde raskt in till Sjökvarteret och tog några bilder. Jag gillar effekten av molnen och de gula stolparna som blicken följer ut på bryggan till Sunnan II som ligger längst ut.
My Photographic Steps started with a purchase of a used Nikon D7000 with the kit lens 18-200mm on. It was in May 2020. Last July I posted my first blog post and I have since tried to get a blog a week and a picture on Facebook every day. Now a year has passed and I thought I would sum it up a bit. At the same time, I thought I would show a Facebook picture that I like from each month, because they have not been allowed to be in my photo blog.
The first picture will be a classic view from Mariehamn with the boat Albanus. When I went home that evening, the whole sky turned pink in front of me and I thought I had to do something about this. Quickly turned into Sjökvarteret and took some pictures. I like the effect of the clouds and the yellow poles that the gaze follows out on the bridge to Sunnan II which is at the far end.
Svartvita fotografier med avtryck av vardagen gillar jag om fotografen har lyckats hitta något som fångar en. Vet inte om detta fångar er, men jag gillar linjerna som ljuset skapar och de olika fälten samt att något händer där i mitten. Sedan finns det en rörelseoskärpa också som får det lite mer levande. Vem är det och vad kommer att hända härnäst? Nu vet jag att det är min kära fru Therese som går genom ett av våra rum i sommarsolen men det spelar ingen roll för frågorna finns där i mig i alla fall.
I like black and white photographs with imprints of everyday life, if the photographer has managed to find something that captures one. I do not know if this catches you, but I like the lines that the light creates and the different fields and that something happens there in the middle. Then there is a motion blur as well that makes it a little more vivid. Who is it and what will happen next? Now I know that it is my dear wife Therese who walks through one of our rooms in the summer sun but it does not matter because the questions are there in me anyway.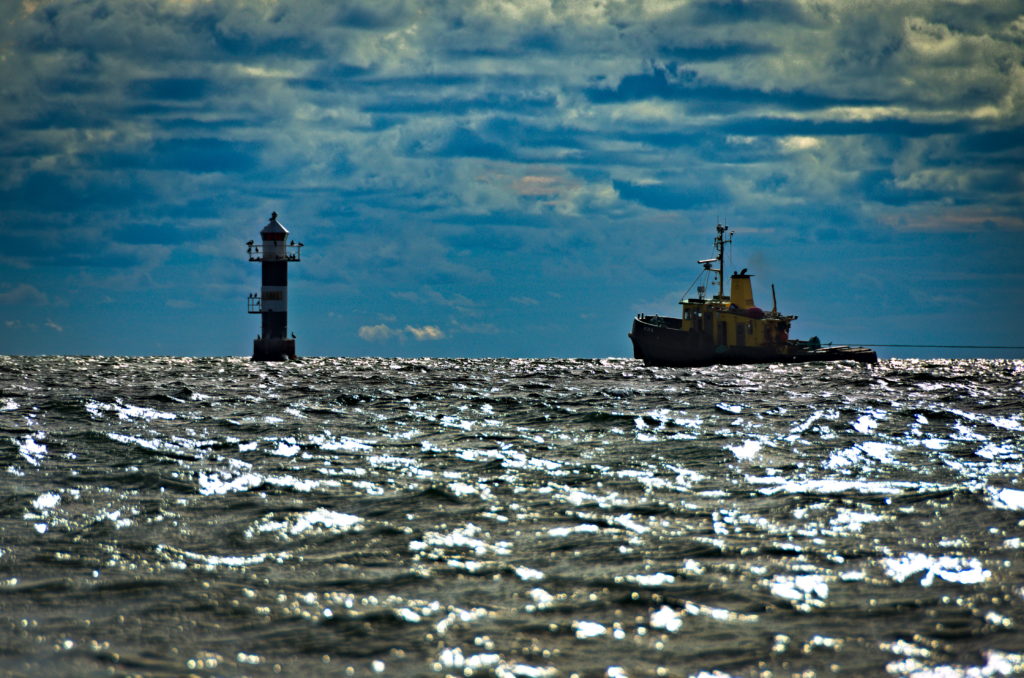 Bogserbåten har fått lite uppmärksamhet, genom att den valdes ut att få vara med i fotoklubben Obscuras utställningen, som hänger under hela Åland 100-firandet i Esplanaden. Den har i alla fall varit med i två tidningar som bild till artiklar om utställningen och det känns ju roligt! Hela familjen gjorde även en kulturell dag i mitten av sommaren och tittade på alla bilder och jag blev lite rörd när jag fick se den "live" så att säga!
The tugboat has received some attention, as it was chosen to be part of the photo club Obscura's exhibition, which hangs throughout the Åland 100 celebration in the Esplanade. It has at least been in two magazines as a picture for articles about the exhibition and it feels fun! The whole family also did a cultural day in the middle of the summer and looked at all the pictures and I was a little moved when I got to see it "live" so to speak!
For iväg till andra ändan av Åland för att hitta solnedgångsljus över havet, när jag ändå skulle hämta grabben senare på kvällen i Mariehamn. Det blev en fin och blåsig kväll på klipporna utanför Käringsund. Det var dock bara den här bilden som det blev sådant här ljus där det blev som en målning men ändå skarp på något sätt!
Went to the other end of Åland to find sunset light over the sea, when I would still pick up may boy later in the evening in Mariehamn. It was a nice and windy evening on the rocks outside Käringsund. However, it was only this picture that it became such a light where that it looked like a painting but still sharp in some way!
Ibland känns det som om jag försöker vara konstnärlig men inte riktigt kan och här är en sådan bild. Men i nästa sekund så tycker jag att jag har kunna skapa något som inte bara är en bild, utan något som får mig att titta lite extra och känna att bilden tar tag i mig och då känner jag mig nöjd och då kommer nästa sekund och då är jag tillbaka i börja av detta stycke…
Sometimes it feels like I'm trying to be artistic but can not really and here is such a picture. But in the next second I think I have been able to create something that is not just an image, but something that makes me look a little extra and feel that the image grabs me and then I feel satisfied and then comes the next second and then am I back at the beginning of this paragraph …
Gatufotografering i en småstad är inte lätt. Anonymiteten som man kan dölja sig bakom försvinner, men Mariehamn är tillräckligt stort för att man inte ska känna alla heller. Men man tar vad man har! November var inte särskilt vitt men det svarta, blöta gjorde att belysningen skapade sin egen stämning.
Street photography in a small town is not easy. The anonymity that you can hide behind disappears, but Mariehamn is big enough that you do not know everyone either. But you take what you have! November was not very white but the black, wet made the lighting create its own atmosphere.
Svartvitt igen. Jag trivs väldigt bra med svartvitt. När jag var yngre och började fotografera, framkallade jag själv mycket och då var det billigare och lättare att jobba med svartvitt. Men jag har även skyllt på min ringa färgblindhet för att hålla mig borta från färgbilder. Har inte koll på det röda ordentligt men här finns det inget rött, utan bara svart och vitt och lite grått däremellan!
Black and white again. I thrive very well with black and white. When I was younger and started photographing, I developed a lot myself and then it was cheaper and easier to work with black and white. But I have also blamed my slight color blindness for staying away from color images. Do not know the red properly but here there is no red, but only black and white and a little gray in between!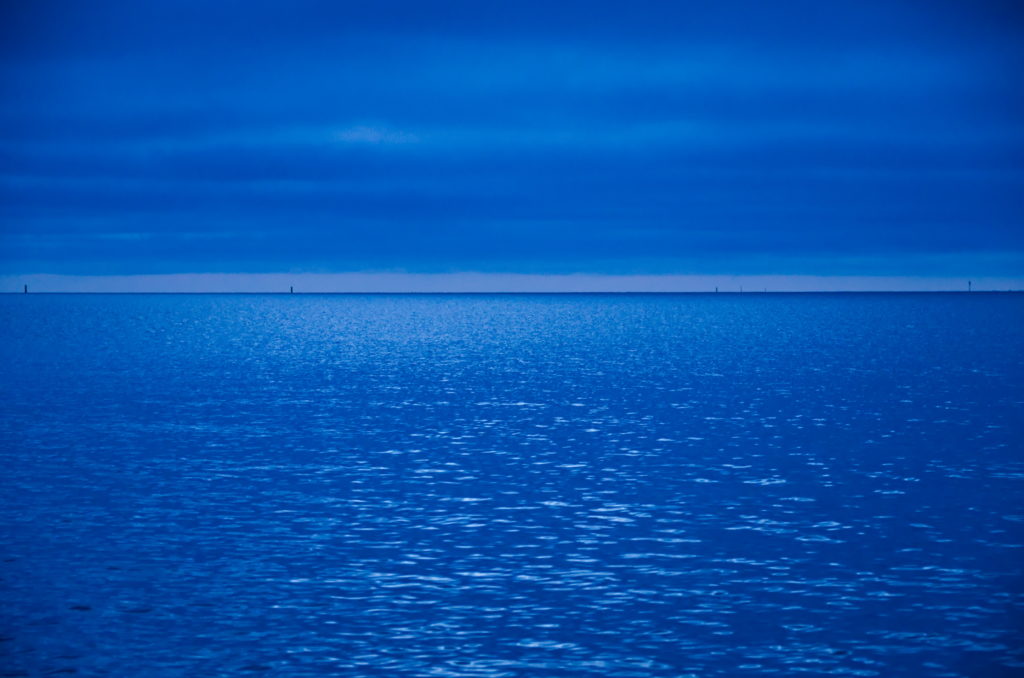 Blått däremot funkar bra! På min födelsedag var jag tydligen ute och fotade i det kalla månljuset. Gillar dels ljuset men också lagren som horisonten, molnen och vattnet skapar. Har tagit fler sådan bilder med olika färgnyans och mer eller mindre moln. Ser fram emot att äga ett objektiv som klarar av att sätta skärpan där borta vid oändligheten.
Blue, on the other hand, works well! On my birthday, I was apparently out taking pictures in the cold moonlight. I like the light but also the layers that the horizon, the clouds and the water create. Have taken more such pictures with different color shades and more or less clouds. Looking forward to owning a lens that can sharpen the edge over there at infinity.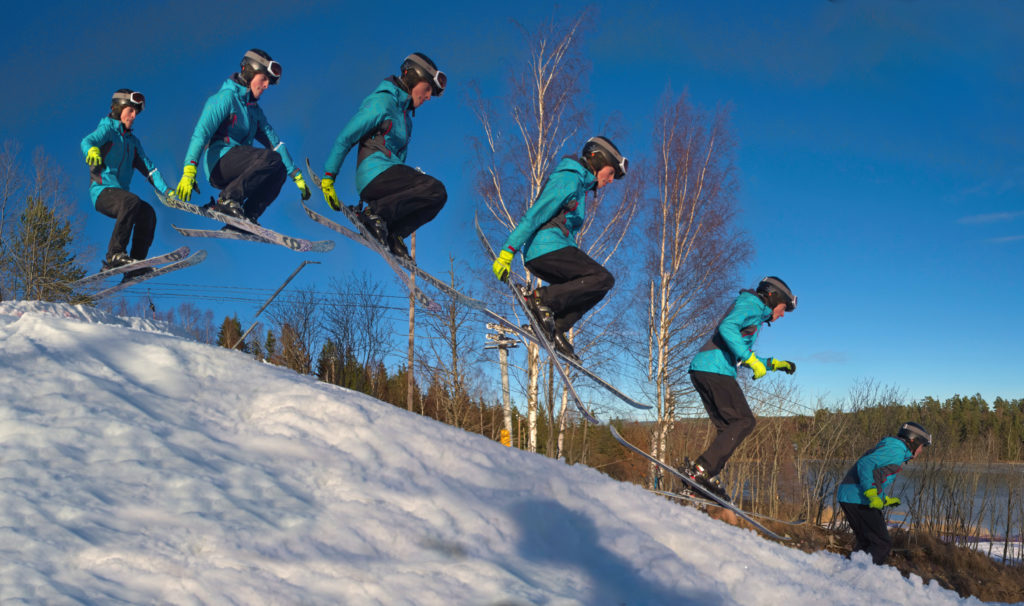 Den här fick jag jobba för att få ihop! Testade ett program som heter Hugin och som plockar ihop panoramabilder åt en. Min son Mio hoppar i den ända backen med lift på Åland: Germundö Alpin.
This one I had to work to get together! Tested a program called Hugin that build panoramic images for you. My son Mio jumps in the only hill with a lift on Åland: Germundö Alpin.
Vi hade valpar i huset några månader och jag försökte fånga dem på bild. Inga tillrättalagda studiobilder utan ett försök att fånga dem i vardagen. Den här på Yoda tycker jag får fram känslan av att utforska nya marker och våga ta klivet in i det okända med viss beslutsamhet!
We had puppies in the house for a few months and I tried to capture them in a picture. No prepared studio pictures but an attempt to capture them in everyday life. This one on Yoda, I think, brings out the feeling of exploring new lands and daring to step into the unknown with some determination!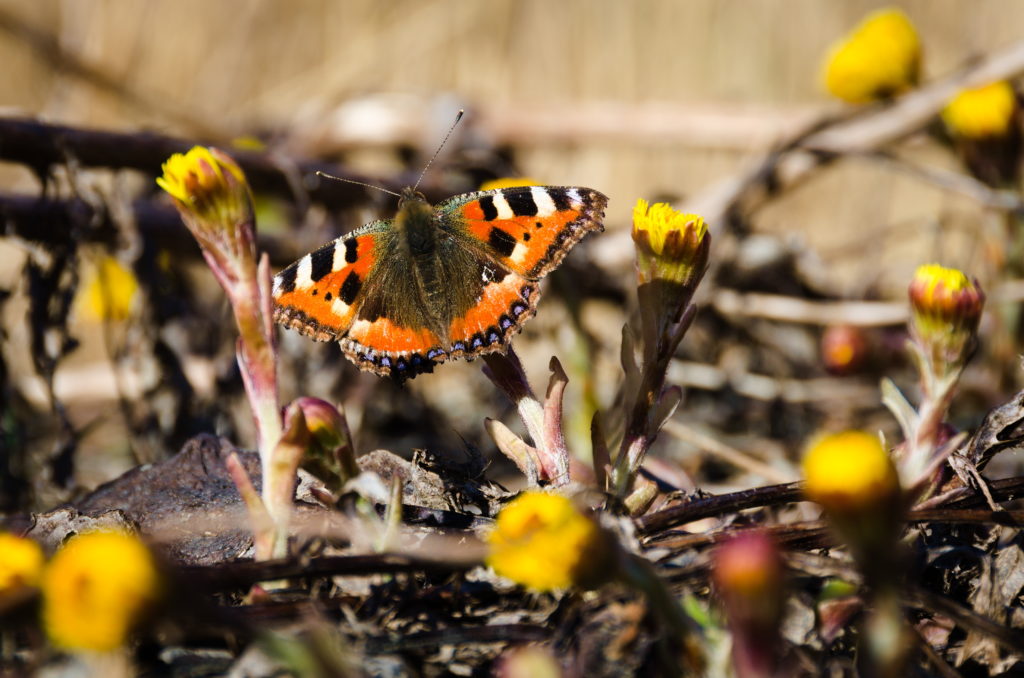 Mitt objektiv har inte gett mig skarpa bilder alltjämt men med lite tur så hoppar linserna rätt och ger skärpa i bilden. Mitt första försöka att ta närbilder blev krypandes och liggandes på mage bland de nyutslagna tussilagorna!
My lens has not given me sharp images all the time, but with a little luck, the lenses jump right and give sharpness in the image. My first attempt to take close-ups was crawling and lying on my stomach among the newly released coltsfoot!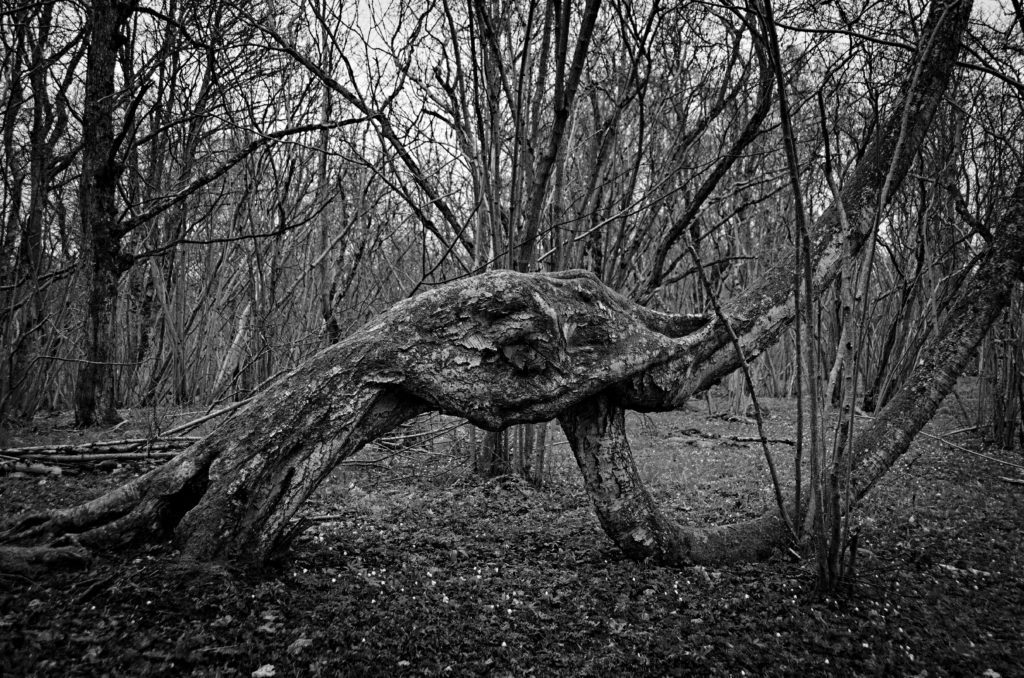 Då har det gått ett år. Strosade runt i Nåtö naturreservat och på vägen hem så hittade jag detta träd. Det fick bli en snabb bild, för jag höll på att bli sen till nästa inbokade sak i kalender. Jag gillar den i svartvitt för det blir för mig en trolsk och mystisk stämning som hjälper till att lyfta fram det underliga trädets form. Är det ett djur eller väsen och hur hamnade den där bland alla hasselträd?
Ett år var mitt mål att driva detta projekt och det har jag lyckats med. Det har hackat lite ibland men jag har fullföljt. Jag hade hoppats på att något skulle ha klarnat för mig när det gäller vad jag ska göra med mitt fotograferande, men den frågan kvarstår. Jag vet inte heller hur fortsättningen ser ut. Jag fortsätter att dela mina bilder på Facebook så gott som varje dag och jag ser nog att jag måste fortsätta med det. Detta för att det är ett sätt för mig att ta hand om mina bilder och faktiskt få dem klara. Sedan hoppas jag att den dagliga kontakten med mina bilder får mig att utvecklas som fotograf. Så vi får se vad som dyker upp i bloggen i framtiden!
Then a year has passed. Strolled around in Nåtö nature reserve and on the way home I found this tree. It had to be a quick picture, because I was about to be late for the next booked thing in the calendar. I like it in black and white because for me it becomes a magical and mysterious atmosphere that helps to highlight the shape of the strange tree. Is it an animal or a creature and how did it end up among all the hazel trees?
One year was my goal to run this project and I have succeeded. It has hacked a bit sometimes but I have completed. I had hoped that something would have become clear to me when it comes to what to do with my photography, but that question remains. I also do not know what the sequel looks like. I continue to share my photos on Facebook almost every day and I probably see that I have to continue with it. This is because it is a way for me to take care of my pictures and actually get them ready. Then I hope that the daily contact with my pictures makes me develop as a photographer. So we will see what appears in the blog in the future!