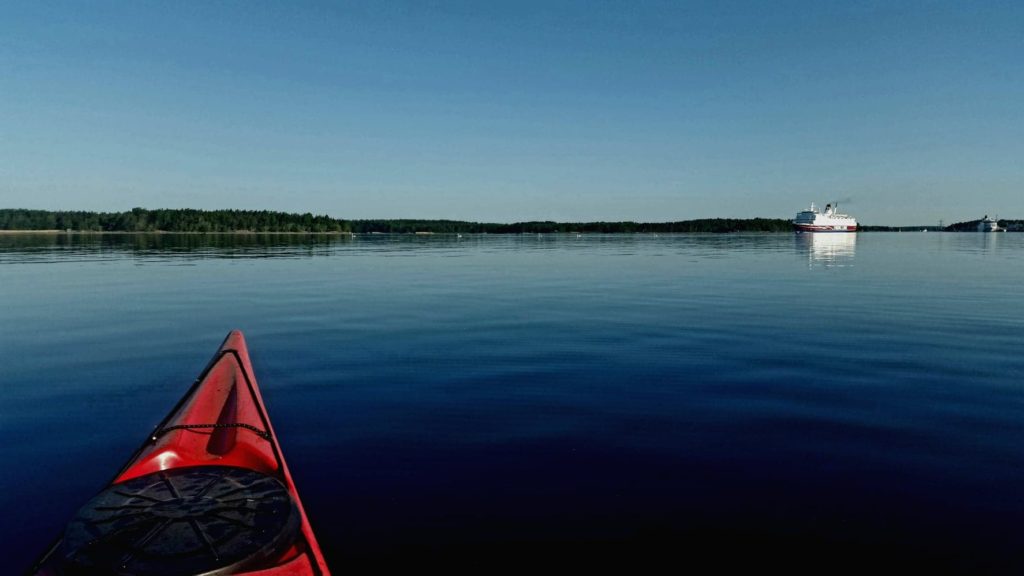 Solen börjar värma mot ansiktet och jag känner saltdoft i näsan. Inte riktigt saltdoft, som min fru säger bara finns på svenska västkusten, men saltet känns här också. Den finns där som en underton. Det guppar lätt under mig och borta i farleden kommer något som ser ut som en liten båt.
Medan jag ligger här och guppar, ombonad i min kajak så kommer båten närmare. Det är ingen liten båt. Det är en klart större båt, men inte en av de största. Det är färjan Rosella som lämnar Mariehamns västra hamn på sin tur mot Kapellskär.
Morgonturen som går klockan 07.30 alla dagar utom söndagar. Ingen vill åka någonstans en tidig söndagsmorgon. Vardagar ska man iväg och jobba och lördagar ska ålänningarna shoppa i Stockholm eller möjligtvis Uppsala, men på söndag morgon vill man ingenstans, fören vid lunch, för då går nästa avgång. Men då är det mest gäster som vill hem efter en helg på ön.
Själv är jag ute och tränar, eller i alla fall, rör på mig innan arbetet. En sväng i kajaken ut från Lervik i den tilltagande värmen från sommarmorgonsolen. Jag brukar hinna ut förbi Hackorna och vid plattvatten som i dag, utan vind, så sticker jag gärna vidare ut till Granö klubb och tillbaka.
När Rosella är förevigad på bild och jag har reflekterat över min kajaks litenhet i förhållande till färjorna, kan jag inte låta bli att sticka ner händerna i det kalla vårvattnet och förundras över detta element som bär upp mig men med några misstag kan ta mitt liv. Sedan sätter jag paddeln i vattnet och driver kajaken ut över den blanka, vårvarma Styrsöfjärden som inte luktar riktigt saltvatten.
The sun is starting to warm my face and I can smell salt in my nose. Not really salty smell, as my wife says is only found on the Swedish west coast, but the salt is felt here as well. It is there as an undertone. It bounces easily under me and away in the fairway comes something that looks like a small boat.
While I lie here bouncing, snuggled in my kayak, the boat comes closer. It's not a small boat. It is a clearly larger boat, but not one of the largest. It is the ferry Rosella that leaves Mariehamn's western harbour on its way to Kapellskär.
The morning tour that runs at 07.30 every day except Sundays. Nobody wants to go anywhere early Sunday morning. On weekdays you have to go and work and on Saturdays the people of Åland go shopping in Stockholm or possibly Uppsala, but on Sunday morning you want nowhere, before lunch, because then the next departure will take place. But then it is mostly guests who want to go home after a weekend on the island.
I myself am out training, or at least, moving before work. A turn in the kayak out of Lervik in the increasing heat from the summer morning sun. I usually make it out past Hackorna and by flat water like today, without wind, I like to stick out to Granö klubb and back.
When Rosella is immortalized in a picture and I have reflected on the smallness of my kayak in relation to the ferries, I can not help but stick my hands in the cold spring water and marvel at this element that carries me, but can with some mistakes, take my life. Then I put the paddle in the water and drive the kayak out over the shiny, spring-warm Styrsöfjärden which does not smell like really salt water.
---
FACTS
Samsung SM-G900F
f 2,2 1/816s 4,8mm ISO40
29 May 2018, kl 07.31
The ferry Rosella on her way out from the Marihamn harbour, The Åland Islands

---