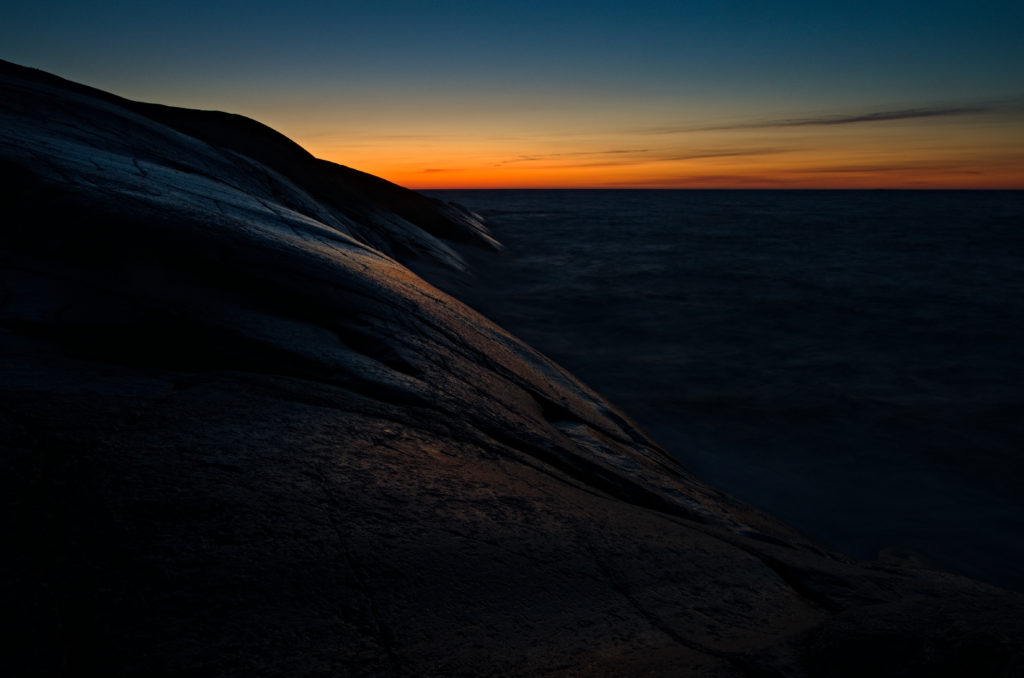 Vinden sliter i min täckjacka och jag är glad att jag tog med den, för det ligger på från norr över havet med 6-7 sekundmeter och den är kall, för temperaturen ligger bara på 2-3 grader plus.
Men himlens moln ger förutsättningar för en vacker solnedgång och i klippornas rundning lockar formerna.
The wind is tearing in my quilted jacket and I'm glad I brought it, because it is blowing from the north over the sea by 6-7 seconds and it is cold, because the temperature is only 2-3 degrees plus.
But the clouds of the sky provide conditions for a beautiful sunset and in the rounding of the rocks attract the shapes.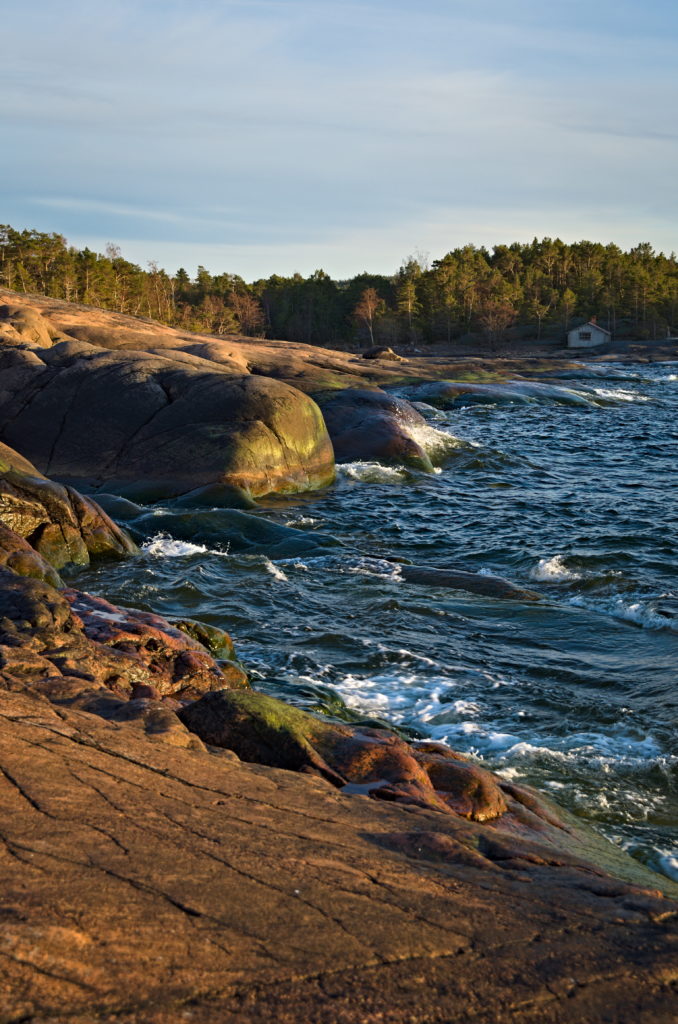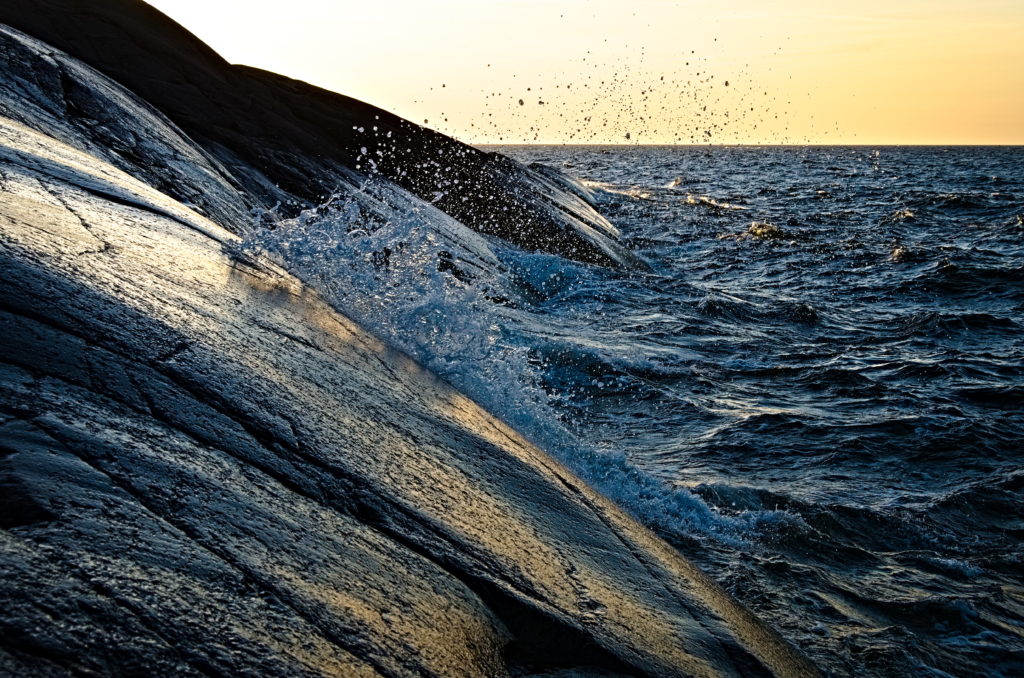 Man är väldigt exponerad här där Åland möte Norrhavet. Jag och Therese har tagit oss upp till Geta och letat oss ut på klipporna väster om Havsvidden.
Tur att inte allt är bebyggt här med sommarstugor, så att man som friluftsmänniska och fotograf fortfarande får tillgång till denna unika miljö, där hav möter land,
You are very exposed here where Åland meets the North Sea. Therese and I have taken us up to Geta and sought our way out on the cliffs west of Havsvidden.
Luckily, not everything is built here with summer cottages, so that you as an outdoor person and photographer still have access to this unique environment, where the sea meets land,
Vinden tar med sig vatten massa och kastar upp den på land. Inga spektakulära kaskader denna gång men jag väntar tålmodigt på de som är störst.
Försöker förutse vilka dyningar från havet som kommer att skapa det mesta stänken men också om den kommer att bryta mot klippan på rätt ställe. Kallt om fingrarna i vinden när jag väntar.
Använder 1/500 sekund för att fånga vattendropparna men vill även ner till 1/6 sekund för att fånga rörelsen i vattnet.
The wind takes a mass of water and throwing it ashore. No spectacular cascades this time but I am patiently waiting for the biggest one.
Trying to predict which swells from the sea will create most of the splashes but also if it will break against the rock in the right place. Cold fingers in the wind while I wait.
Uses 1/500 second to catch the water droplets but also wants down to 1/6 second to catch the movement in the water.
Problem uppstår genom att solen fortfarande hänger över horisonter och ger för mycket ljus. Önskar mig några gråfilter för att få ner tiderna till under 5 sekunder, så att det där mjölkiga, dimlika vattnet bildas utan att hela himlen, som nu börjar närma sig orange, bli vit på bilderna.
Försöker komma ihåg Mads Peter Iversens råd om vilka slutartider som skapar vilken sorts effekter på rörligt vatten. Han har en bra video om detta.
Problems arise when the sun still hangs over horizons and gives too much light. Wish me some gray filters to reduce the times to less than 5 seconds, so that that milky, misty water is formed without the whole sky, which is now starting to approach orange, turning white in the pictures.
Trying to remember Mads Peter Iversen's advice on which shutter speeds create what kind of effects on moving water. He has a good video about this.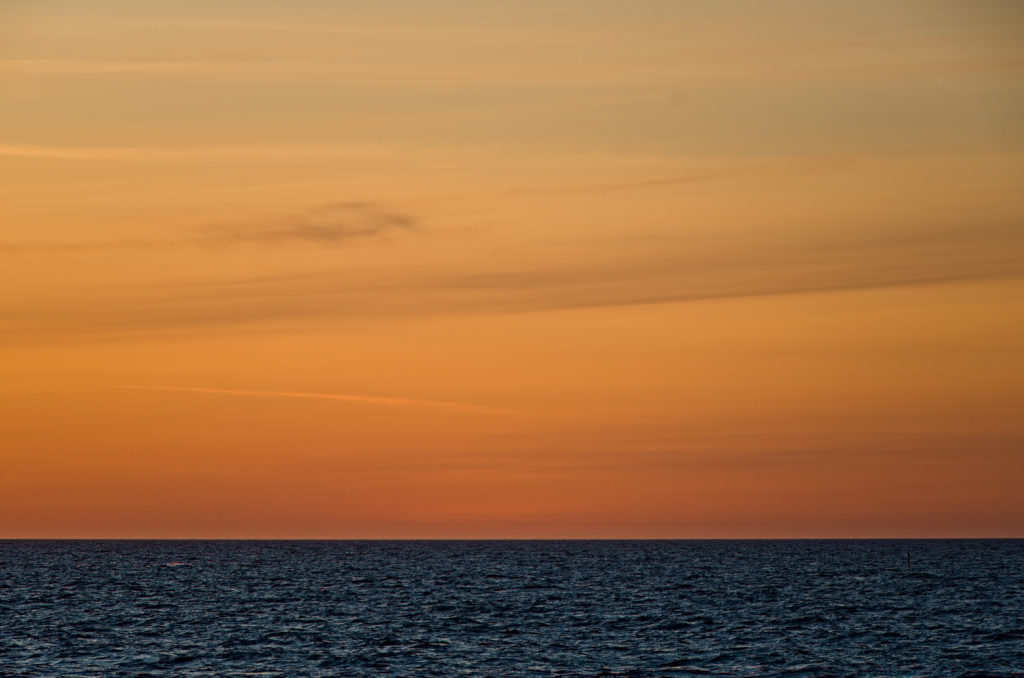 Therese lyckas fånga några fantastiska bilder med sin mobil på vågstänk över mörka klippor. Hennes Samsung ger fantastisk skärpa och briljans i bilderna som jag inte kan nå upp till med min Nikon D7000 med Nikkor zoomen på 18-200mm. Jag vet nu att D7000 har problem med skärpan från diskussioner på nätet och linsen har inte fått höga betyg när det gäller skärpa och vinjettproblem, så jag funderar på vad nästa steg för mig är?
Therese manages to capture some amazing images with her mobile on wave splash over dark cliffs. Her Samsung gives fantastic sharpness and brilliance in the pictures that I can not reach with my Nikon D7000, with the Nikkor zoom of 18-200mm. I now know that the D7000 has problems with sharpness from online discussions and the lens has not received high marks when it comes to sharpness and vignette problems, so I'm wondering what the next step is for me?
Sitter på klippan och käkar lite chips och inser att jag snart har fotat ett år med min begagnade kamera och lärt mig väldigt mycket, men det känns som det är dags att uppgradera sig till hösten.
Sitting on the cliff chewing some chips and realizing that I have soon photographed a year with my used camera and learned a lot, but it feels like it's time to upgrade to the autumn.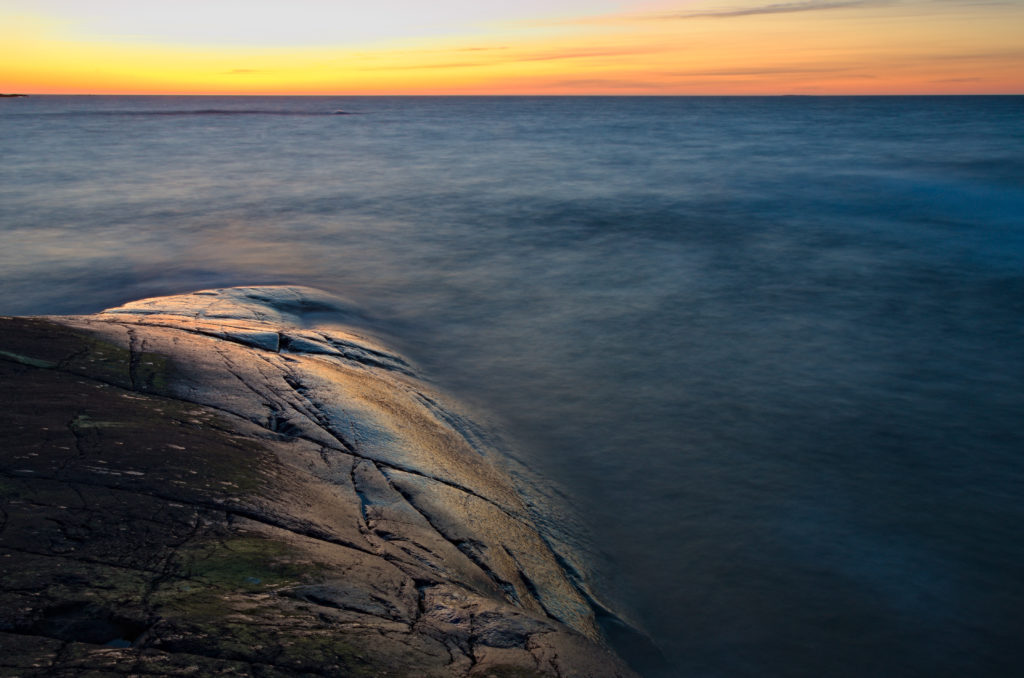 Solen tar sig ner under horisonten och nu sprider sig ett riktigt orange ljus över hela himlen. Testar att övergå till manuella inställningar istället för slutartidsstyrd automatik och är lite för snabb och kollar inte ljusmätaren, men resultatet som dyker upp på displayen tilltalar mig. En underexponerad bild där klippan ser svar ut, himlens oranga kommer fram och ljuset över klipporna blir som isblänk.
The sun goes down below the horizon and now a real orange light spreads over the whole sky. Tries to switch to manual settings instead of shutter-controlled automatic and is a bit too fast and does not check the light meter, but the result that appears on the display appeals to me. An underexposed image where the rock looks black, the orange of the sky appears and the light over the rocks becomes like ice glitter.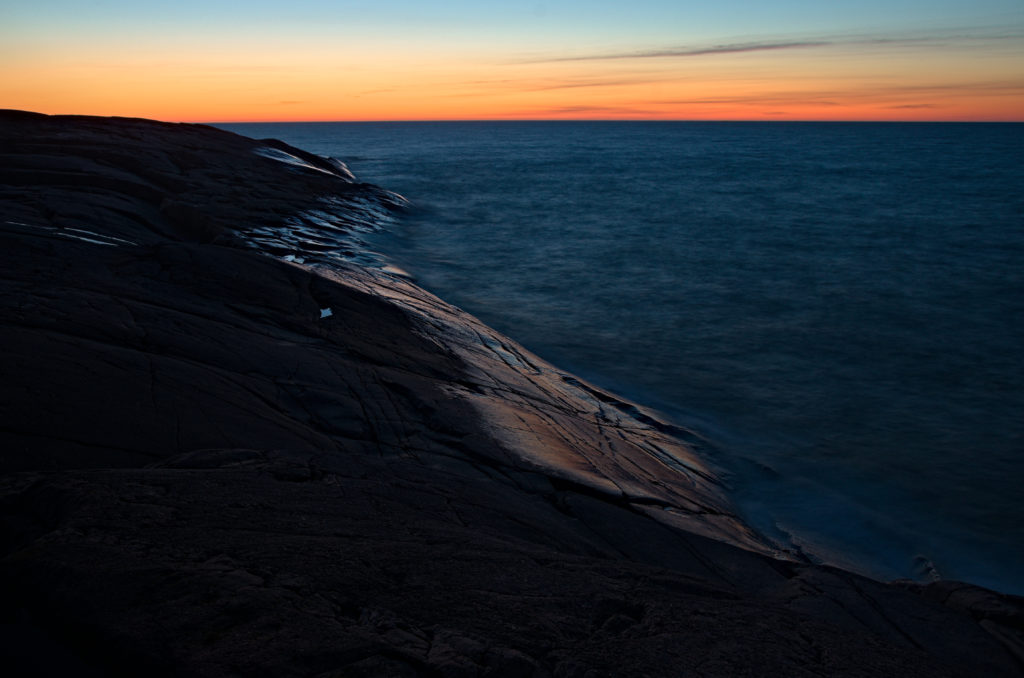 Fortsätter att experimentera och ändrar till spotavläsning för ljuset och låter kameran ta in de ljusa fälten på klipporna.
Hemma vid datorn vågar jag inte riktigt ta i så mycket med det svarta, utan låter en del struktur vara kvar, men det känns som om fler ljusvarianter kan vara ide att ta fram när tid finns.
Continues to experiment and changes to spot reading for the light and allows the camera to capture the light fields on the rocks.
At home at the computer, I do not really dare to take in so much with the black, but leave some structure, but it feels as if more light variants can be an idea to produce when time allows.
Ute på den kalla klippan har vinden mojnat något och när jag vänder mig om så finns ett helt annat ljus där bort mot Havsvidden. Här finns kylan i den annalkande natten.
Out on the cold cliff, the wind has calmed down a bit and when I turn around, there is a completely different light there towards Havsvidden. Here is the cold in the approaching night.
Men solnedgångens ljus vinner och jag måste ta några bilder till även om jag är kall och trött. Solen gick ned klockan 21.02 och sista bilden tar jag 22.10, innan vi beger oss mot en natt i vår bil!
But the sunset light wins and I have to take some more pictures even if I'm cold and tired. The sun went down at 21.02 and the last picture I take at 22.10, before we head towards a night in our car!
Ja, för när vi nu ändå har tagit oss upp till Geta så tänkte jag fotografera soluppgången också. Fantastiskt med norra Geta detta att du från samma plats, kan fota både solnedgång och soluppgång!
Yes, because now that we have gone up to Geta anyway, I thought I would photograph the sunrise as well. Fantastic with northern Geta this that you from the same place, can photograph both sunset and sunrise!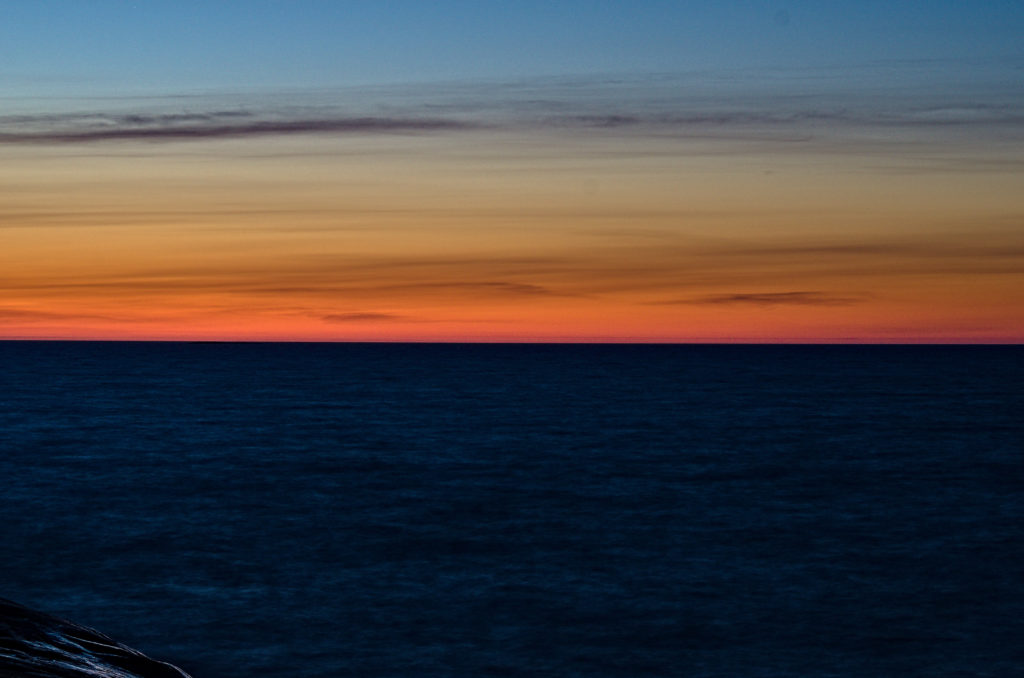 Det vi inte visste vara att sömnen inte skulle bli så god, för madrassen vi valt var alldeles för tunn. Men jag kom upp klockan 5 och tog mig ut till havet igen, men om det blir det en annan gång!
What we did not know was that the sleep would not be so good, because the mattress we chose was far too thin. But I got up at 5 o'clock and went out to sea again, but about that it will be another time!