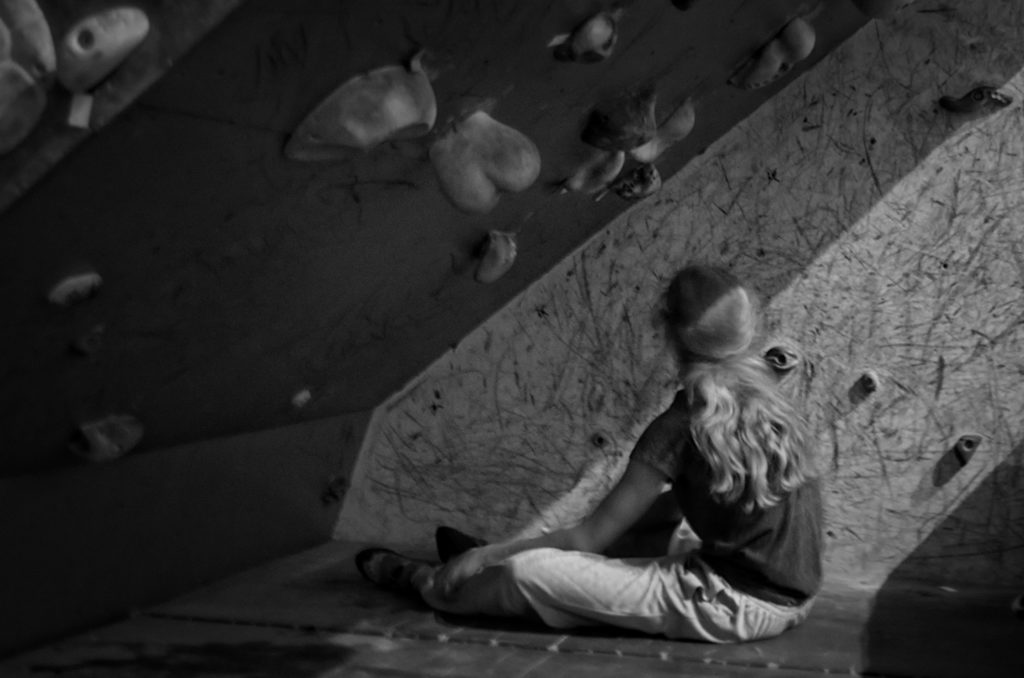 Klättring har hos mig en väldigt komplex roll. Det är misslyckanden, rädsla, familjesamvaro och äventyr i en ända röra. Röran har funnits med mig sedan 1993, då jag gick min första kurs på Häggsta-klippan utanför Stockholm.
Den får mig, likt Mio ser ut att göra på första bilden, fundera på vad man håller på med? Är det värt att ta sig upp här? Finns det en väg upp ens? Kommer fingrarna att floppa, räta ut sig, fast jag inte har sagt åt dem att göra det, av mjölksyra och utmattning och mitt tag runt greppet existerar plötsligt inte mer och jag ramlar ner och gör mig illa? Eller halkar av greppet på grund av svettiga fingrar som egentligen behövde en djupdykning i kritpåsen igen, för att kunna fortsätta hjälpa mig i min strävan uppåt.
Climbing has a very complex role for me. There are failures, fears, family gatherings and adventures in one mess. The mess has been with me since 199,3 when I took my first course on the Häggsta cliff outside Stockholm.
It makes me, like Mio seems to do in the first picture, think about what you are doing? Is it worth getting up here? Is there a way up even? Will the fingers flop, straighten, even though I have not told them to do so, of lactic acid and fatigue and my hold around the grip suddenly no longer exists, and I fall down and hurt myself? Or slipping off the grip due to sweaty fingers that really needed a deep dive into the chalk bag again, to be able to continue to help me in my quest upwards.
Jag lyckades inte tajma någon av Stockholm klätterklubbs kurser den där gången jag ville lära mig klättra.
Jag fick tag i en av instruktörerna som kunde tänka sig att köra kursen med mig privat. Det började med att instruktören inte dök upp och jag fick återvända hem, 8 mil bort, men som kompensation fick jag en längre kurs istället, något senare, när han inte var bakfull!
Tyvärr har jag glömt hans namn men han bjöd igen och var en väl meriterad och mycket duktig klättrare. Det blev en väldigt givande kurs för mig!
I did not manage to time any of the Stockholm climbing club's courses that time I wanted to learn to climb.
I got hold of one of the instructors who could do the course with me. It started with the instructor not showing up and I had to return home, 80 km away, but as compensation I got a longer course instead, a little later, when he was not hungover!
Unfortunately I forgot his name but he was a well-qualified and competent climber. It was a very rewarding course for me!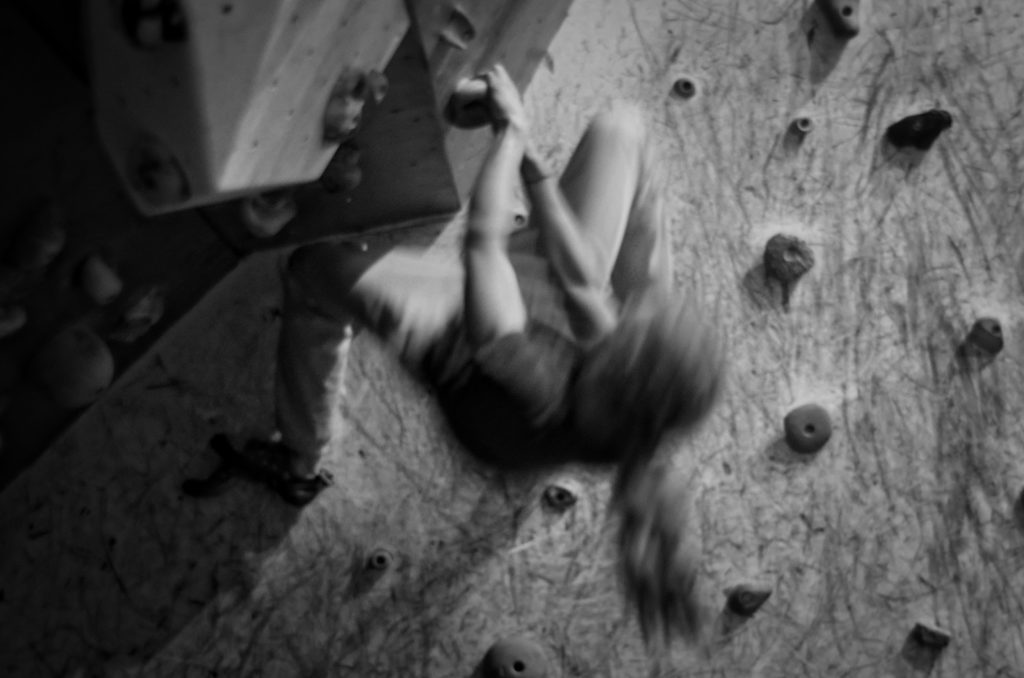 Efter kursen klättrade jag så mycket jag kunde. Hängde i som tusan som Mio gör på de andra bilderna, men en sak sinkade mig och det var att jag hittade aldrig någon att klättra med.
Ska man komma vidare och ta sig förbi sina egna gränser behöver man stöd och någon som pushar en.
Sedan är det krångligt att klättra själv. Jag löste det med topprep och clog, men det tog mig inte vidare i ledklättringen och några klättergym fanns inte i min närhet.
After the course I climbed as much as I could. Worked hard like Mio does in the other pictures, but one thing slowed me down I never found anyone to climb with.
If you want to move on and get past your own boundaries, you need support and someone to push you.
Then it is difficult to climb yourself. I solved it with top rope and clog but it did not take me further in the lead climbing and there were no climbing gyms near me.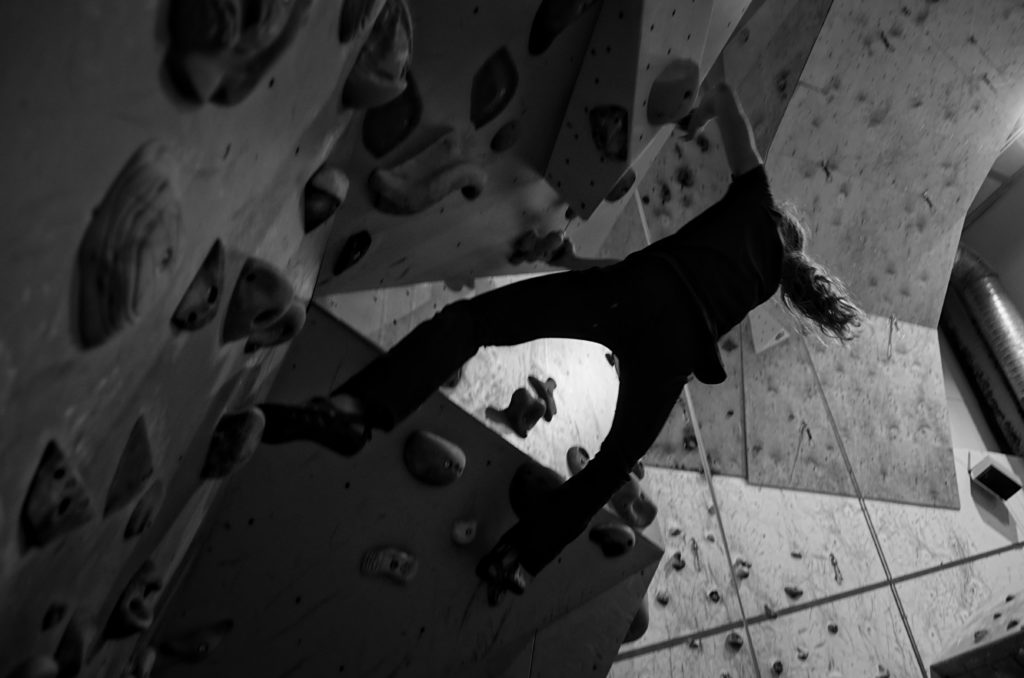 Tyvärr tog det stopp på en klippa i Ågelsjön och det är här det blir ännu mer komplext. Tanken på döden gör stor entré och helt plötsligt blir klättringen en existentiell fråga.
Vi var på klätterresa genom de mellersta delarna av Sverige med Fjäll- och vildmarksledarlinjen under mitt andra år. Vi hade det helt enkelt väldigt bra och gjorde stopp vid olika klippor på vägen.
Ett av stoppen var Ågelsjön utanför Norrköping. Ledklättrade en led på två replängder med en klasskamrat. Luftig men lätt led och väldigt fin utsikt. Men där på klippan psykade jag ur. Helt plötsligt litade jag inte på varken standplatsbultarna eller min egen förmåga. Rädslan byggdes upp i min kropp och trots att jag logiskt kunde resonera kring det och inte kände någon ångest eller panik så vågade jag inte utsätta mig för risken att ta ett fall. Jag lyckades ta mig upp, men inte som försteman utan som andreman.
Den känslan som skapades där av rädsla gick inte ur mig på flera år. Jag klättrade vidare men det gick inte att pressa några gränser längre.
Unfortunately, it stopped on a cliff in Ågelsjön and this is where it becomes even more complex. The thought of death makes a big entrance and all of a sudden the climb becomes an existential issue.
We were on a climbing trip through the middle parts of Sweden with the Mountain and wilderness leader education during my second year. We simply had a very good time and made stops at various cliffs along the way.
One of the stops was Ågelsjön outside Norrköping. Climbed a trail on two rope lengths with a classmate. Airy but light trail and very nice view. But there on the cliff I psyched out. All of a sudden, I did not trust either the stand bolts or my own ability. The fear built up in my body and even though I could logically reason about it and did not feel any anxiety or panic, I did not dare to expose myself to the risk of taking a fall. I managed to get up, but not as the lead but as the second.
The feeling created there by fear did not go out of me for several years. I climbed on but it was not possible to push any boundaries anymore.
Sedan blev det familjeliv med barn och engagemang i klätterklubb i Kinna.
Där i Lyckeskolans gymnastikhall tog sonen Mio sina första grepp på klätterväggen och inte nog med det förresten – Han tog sina första steg i den hallen också! Han var inte mer än ett år då och klättra vet jag inte om man kan kalla det!
Efter mycket om och men hamnade vi på Åland och jag kunde åter igen ta mig ann klättringen, men denna gång tillsammans med Mio och även dottern Malva.
Nu har han passerat mig, för jag har inte kommit förbi grad 6 ännu, trots att jag kämpat sedan 1993!
Then it was family life with children and involvement in a climbing club in Kinna.
There in Lyckeskolan's gymnasium, my son Mio took his first grips on the climbing wall and not only that by the way – He took his first steps in that hall too! He was not more than a year old then and climb I do not know if you can call it!
After a lot of ifs and buts, we ended up on Åland and I was able to take up the climbing again, but this time together with Mio and also my daughter Malva.
Now he has passed me, because I have not passed grade 6 yet, even though I have been fighting since 1993!
En sak lyckades jag lite senare prestera inom klättringen och det är att jag och två trevliga kamrater gjorde Stora Sarektraversen. Då handlade det om en högalpin tur med några få moment av klättring, men vi är inte så många som har gjort den. Du kan läsa om det på Utsidan.se.
One thing I managed to achieve a little later in the climb and that is that I and two nice friends did Stora Sarektraversen. Then it was a high alpine trip with a few steps of climbing, but we are not so many who have done it. You can read about it on Utsidan.se in Swedish.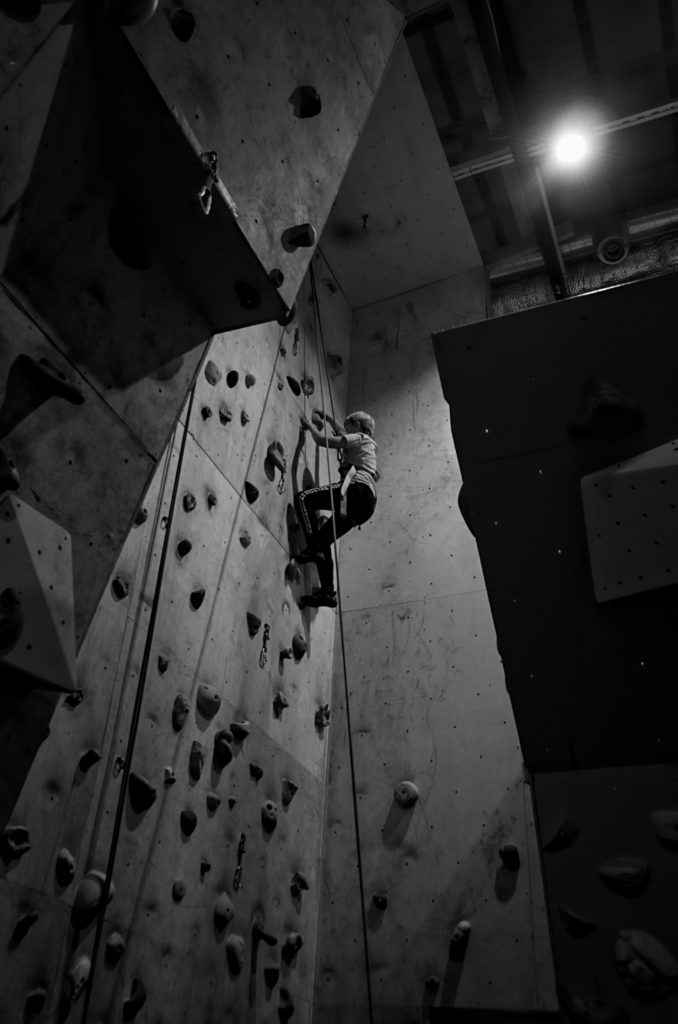 Bilderna är tagna på klättercentret i Vikingahallen.
Lyckades i det svartvita uttrycket, och att växla mellan direkt blixt och lång slutartid, fånga den känslan som jag upplever i ett klättercenter.
Gillar du klättring och bor på Åland tycker jag verkligen att du ska ta kontakt med Ålands klätterklubb och börja klättra! Du hittar dem på Facebook.
The pictures were taken in the climbing center at Vikingahallen.
Succeeded in the black and white expression, and to switch between direct flash and long shutter speed, capture the feeling that I experience in a climbing centre.
If you like climbing and live on Åland, I really think you should contact Åland's climbing club and start climbing! You find them on Facebook.