När jag hade skrivit klart min förra blogg – Chasing waves at Havsvidden! – så blev det en hel del bilder på vågor över, som jag inte visste vad jag skulle göra med. Kände att de helt enkelt var väldigt intetsägande och tråkiga, så de har fått ligga.
Men jag hade en tanke att göra en fortsättning på bloggen från Havsviddens vågor i Geta och jag har gått och grunnat på, hur jag ska kunna få dessa bilder att bli något att titta på.
When I had finished writing my previous blog – Chasing waves at Havsvidden! – then there were a lot of pictures of waves over, which I did not know what to do with. Felt they were simply very bland and boring, so they have been allowed to lie.
But I had an idea to make a sequel to the blog from Havsviddens waves in Geta and I have been thinking about how I can make these pictures become something to look at.
Jag gillar inte att manipulera mina bilder, genom att ta bort eller lägga till saker. Men jag har, trots det, känt mig dragen till bildmanipuleringsprogrammet GIMP och alla dessa finesser som finns där.
Jag har genom detta tittat igenom ett antal av Davies Media Design Youtubefilmer för att förstå mig på GIMP och hitta någon ingång till något som jag vill göra.
I do not like to manipulate my images, by deleting or adding things. But I have, despite that, felt drawn to the image manipulation program GIMP and all these features that are there.
I have through this looked through a number of Davies Media Design Youtube videos to understand more about GIMP and find some entrance to something I want to do.
Och tillslut så gav jag mig in i GIMP-världen med mina mediokra våg-bilder och hittade ett väldigt enkelt sätt att, i alla fall, lyfta bilderna till en ny nivå!
And finally, I entered the GIMP world with my mediocre wave images and found a very simple way to, in any case, lift the images to a new level!
Som du ser på första bilden nedan, så var utgångsmaterialet väldigt kontrastlöst med utfrätta, vita vågkammar och skum. Bilden känns också för mig väldigt stökig, med mycket små detaljer som pockar på uppmärksamhet som stenar och småvågor.
As you can see in the first picture below, the starting material was very contrast-free with corroded, white wave combs and foam. The picture also feels very messy to me, with very small details that attract attention such as rocks and small waves.
Bilden bredvid visar första åtgärderna i Raw Therapee. Jag har maxat Skuggorna i Tonkurvan och nästan dragit ner Mörka partier i botten.
Sedan har jag justerat Ljusa partier och Högdagrar så att vågskummet ska lyftas fram men hålla nere högdagrarna lite, för att inte tappa strukturen helt där.
Sist så använde jag Local Contrast, Kontrast genom detaljnivåer och Haze Removal för att öka kontrasten och få fram vågens struktur och liv.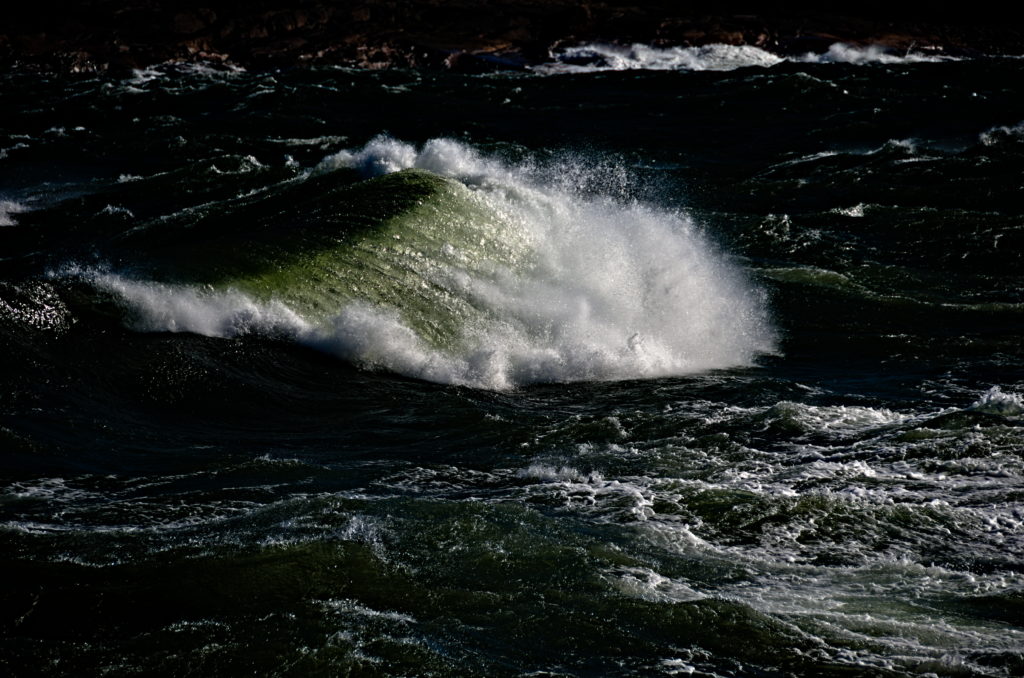 The image next to it shows the first steps in Raw Therapee. I have maxed out the Shadows in the Tone Curve and almost pulled down Dark parts at the bottom.
Then I have adjusted Light parts and Highlights so that the wave foam should be lifted, but keep the highlights down a bit, so as not to lose the structure completely there.
Lastly, I used Local Contrast, Contrast through detail levels and Haze Removal to increase the contrast and bring out the wave's structure and life.
Sedan blev det då dags för GIMP. För att ta bort oväsentliga detaljer, valde jag att skapa ett nytt lager i svart ovanpå våg-bilden. Jag suddade därefter bort det svarta, för att få fram de delar av vågen som jag ville skulle synas.
För att få bort detaljer som jag upptäckte att jag suddat fram men inte ville ha, använde jag pensel och målade helt enkelt över dem igen med svart.
Then it was time for GIMP. To remove insignificant details, I chose to create a new layer in black on top of the wave image. I then erased the black, to bring out the parts of the wave that I wanted to be visible.
To get rid of details that I discovered I had erased back, I used a brush and simply painted over them again with black.
Sist så valde jag färgsprutan och fixade till brytningen mellan det svart och bilden. Det var roligt att spreja, för det kändes för första gången som om jag fick använda lite känsla för att få till bilden!
Valde också att med färgsprutan tona ner vissa vita detaljer runt om huvudmotivet, för att ta lyfta fram den del av vågen jag ville ha i fokus.
Finally, I chose the spray and fixed the break between the black and the picture. It was fun to spray, because for the first time it felt like I had to use a little feeling to get the picture right!
Also chose to use the spray to tone down some white details around the main motif, to highlight the part of the wave I wanted to focus on.
Kul och ganska enkel övning för att träna på komposition och att jobba med GIMP!
Nästa vecka blir det mer bilder från Havsvidden, men då de bilder som jag utlovade i förra bloggen!
Fun and fairly simple exercise to practice composition and work with GIMP!
Next week there will be more pictures from Havsvidden, but then the pictures I promised in the previous blog!