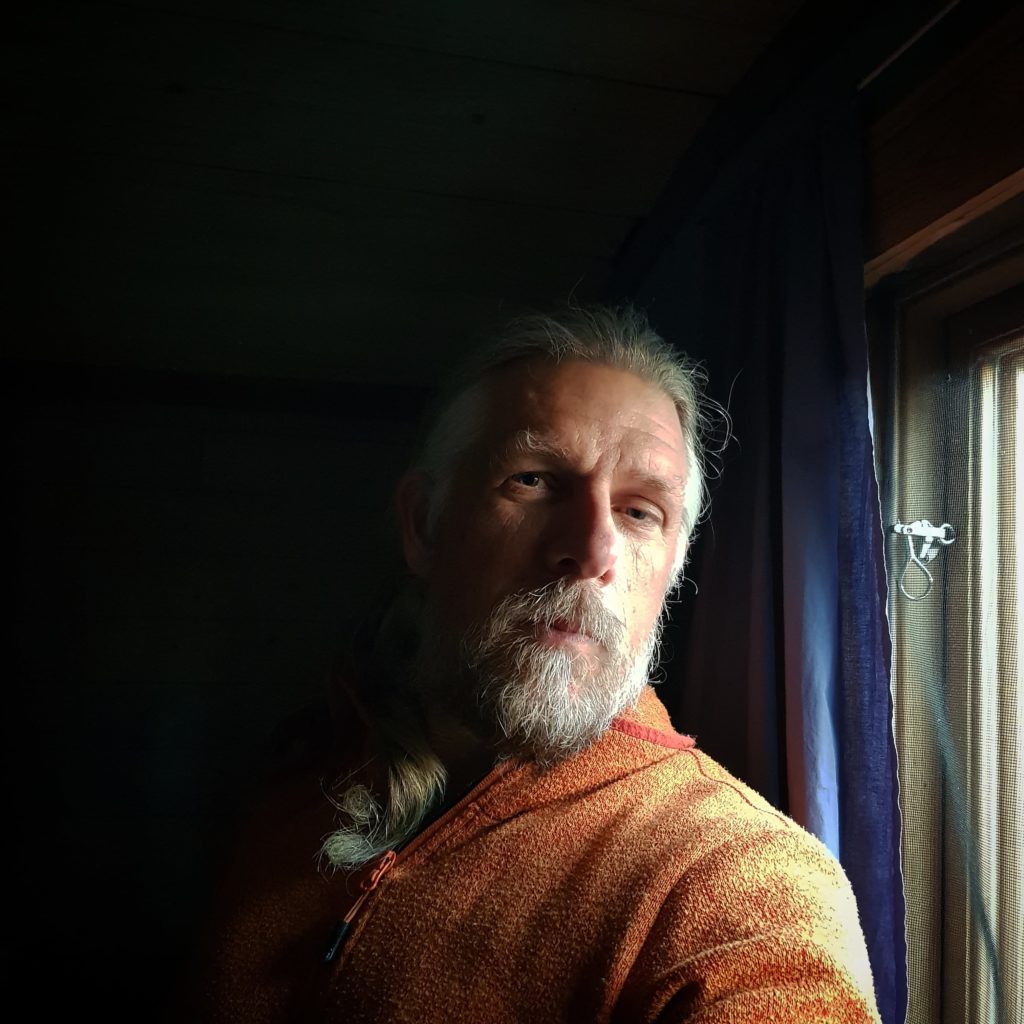 När man inte har någon modell får man ställa upp själv.
Den sista kvällssolen genom fönstret och den enda kamera jag hade var min telefon – Samsung 8. Tog en serie bilder för en utmaning i Gurushots och jag blev förvånad över resultatet. Jag har blivit äldre men mer fotogenisk tycker jag!
Mer spännande att titta på. Mer fåror och mystiskt skägg. Mycket mer hår. Det brukar ju gå åt andra hållet för män, men för mig har det blivit i alla fall längre, på huvudet.
Bilden redigerade jag på telefonen. Ingen vinnarbild men den har dragit till sig en hel del röster.
Skulle här vilja säga att detta i min värld inte är en selfie utan faktiskt ett självporträtt. Jag skulle vilja definiera en selfie som något hastigt taget för att visa upp på sociala medier medan ett självporträtt är något mer. Ett konstnärligt försök att gestalta sig själv där man försöker få fram något mer än bara en förbiilande yta?
Mitt syfte var i alla fall att försöka fånga något mer och att försöka ta bort den där nu klassiska armen i förgrunden. Om jag har lyckats får ju faktiskt ni beskådare svara på.
Har du tagit något självporträtt på sistone?
When you do not have a model, you have to set it up yourself.
The last evening sun through the window and the only camera I had was my phone – Samsung 8. Took a series of pictures for a challenge in Gurushots and I was surprised by the result. I have got older but I think more photogenic!
More exciting to watch. More furrows and mysterious beard. A lot more hair. It usually goes the other way for men, but for me it has at least been longer, on the head.
The picture was edited on the phone. No winning picture but it has attracted a lot of votes.
Would like to say here that in my world, this is not a selfie but actually a self-portrait. I would like to define a selfie as something hastily taken to show off on social media while a self-portrait is something more. An artistic attempt to portray oneself where one tries to produce something more than just a passing surface?
In any case, my purpose was to try to capture something more and to try to remove that now classic arm in the foreground. If I have succeeded, you spectators can only answer.
Have you taken any self-portraits lately?
---
FACTS
Samsung SM-G955F
f1,7 1/50s ISO640 4.20mm
23 April 2020 at 20.51
Self-portrait Stefan Lomner, Järna , Sweden
---