Det rasslar under bilen av torra grässtrån och en del ungt björksly, när jag kör försiktigt fram på den smala skogsvägen. Plötsligt dunkar det till under bilen, det fortsätter med ett kort skrapande ljud och sedan fortsätter rasslandet.
Fyrhjulsdrift har vi på den nyinförskaffade Volvon, men vad hjälper det när någon tidigare ägare har sänkt den så lågt, att minsta lilla sten eller upphöjning, går i hasplåtarna eller de utstickande bultarna på avgasröret?
It rattles under the car of dry blades of grass and some young birch bushes, as I drive carefully on the narrow forest road. Suddenly there is a thump under the car and it continues with a short scratching sound and then the rattling continues.
We have four-wheel drive on the newly acquired Volvo, but what good is it, when some previous owner has lowered it so low that the slightest stone or elevation goes in the skid plates or the protruding bolts on the exhaust pipe?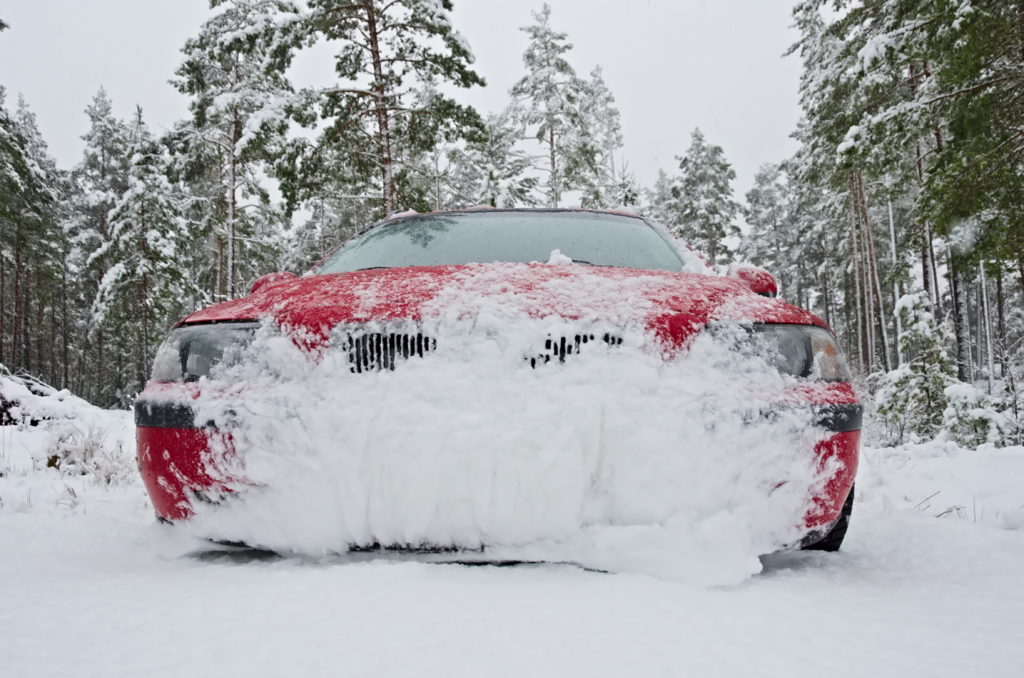 Kliver ut bilen vid vägs ände och snön faller tung ner runt omkring mig. Någon knapp plusgrad i luften gör att snön blir tung och blöt och den fastnar och bildar högar på trädens grenar.
Allt känns grått och still runt mig när jag tar fram kameran och stativet och kliver iväg mot klipporna vid vattnet.
Steps out of the car at the end of the road and the snow falls heavily around me. A slight degree of plus in the air makes the snow heavy and wet and it sticks and forms piles on the branches of the trees.
Everything feels grey and still around me when I take out the camera and the tripod and step away towards the cliff by the water.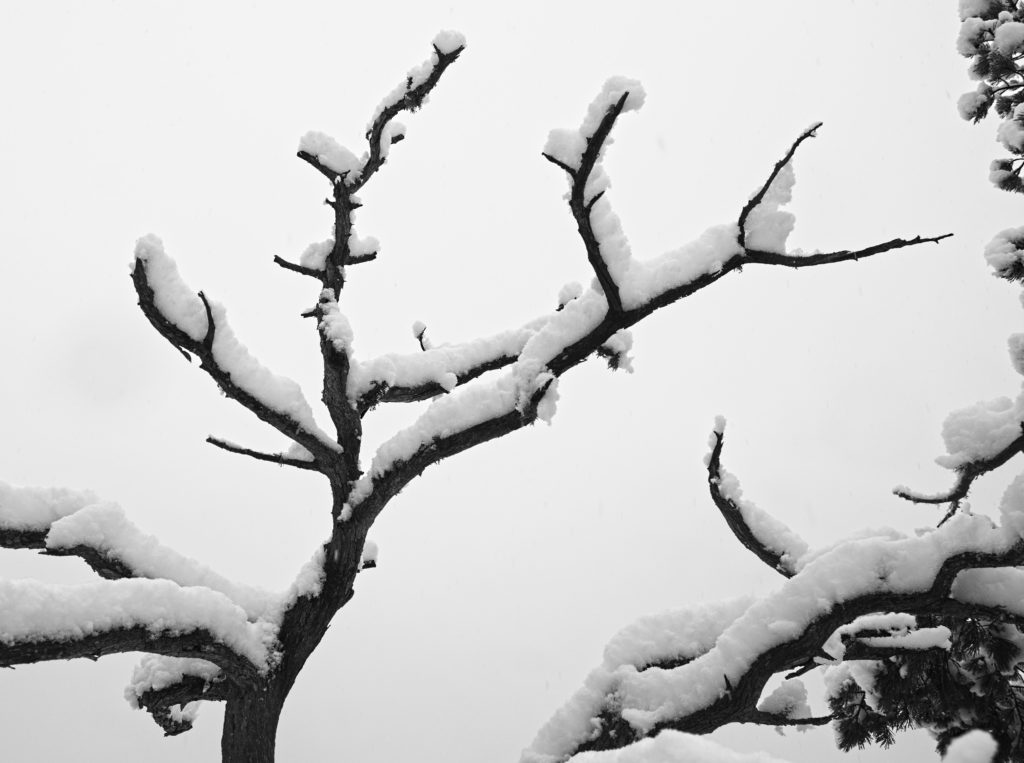 Stöter på några döda träd med grenarna fulla med snö och försöker hitta mönster i virrvarret av grenar. Tar mig vidare ut mellan färre och färre tallar och ju mindre tallarna bli desto mer tilltar vinden.
Den blåser tunga snöflingor i ansiktet på mig och jag måste vara snabb med trasan, när jag väl har valt ett motiv och ska trycka av, innan linsen är blöt av snöflingor igen.
Encounter some dead trees with branches full of snow and try to find patterns in the tangle of branches. Takes me further out between fewer and fewer pines and the smaller the pines become, the more increases the wind.
It blows heavy snowflakes on my face and I have to be quick with the cloth, once I have chosen a motif and have to press the shutter button, before the lens is wet with snowflakes again.
Hittar mina favoritträd och letar efter gamla kompositioner och vinklar, för att se om det händer något när det finns en massa snö med i bilden. Vissa blir intressanta medan andra helt tappar spänningen.
Hittar även nya vyer som inte har fungerat tidigare. Snön skapar kontrast och lyfter fram den mörka klippan och tallarnas spretande grenar och barr.
Find my favorite trees and look for old compositions and angles, to see if something happens when there is a lot of snow in the picture. Some become interesting while others completely lose the tension.
Also finds new views that have not worked before. The snow creates contrast and bring out the dark cliff and the spreading branches and needles of the pines.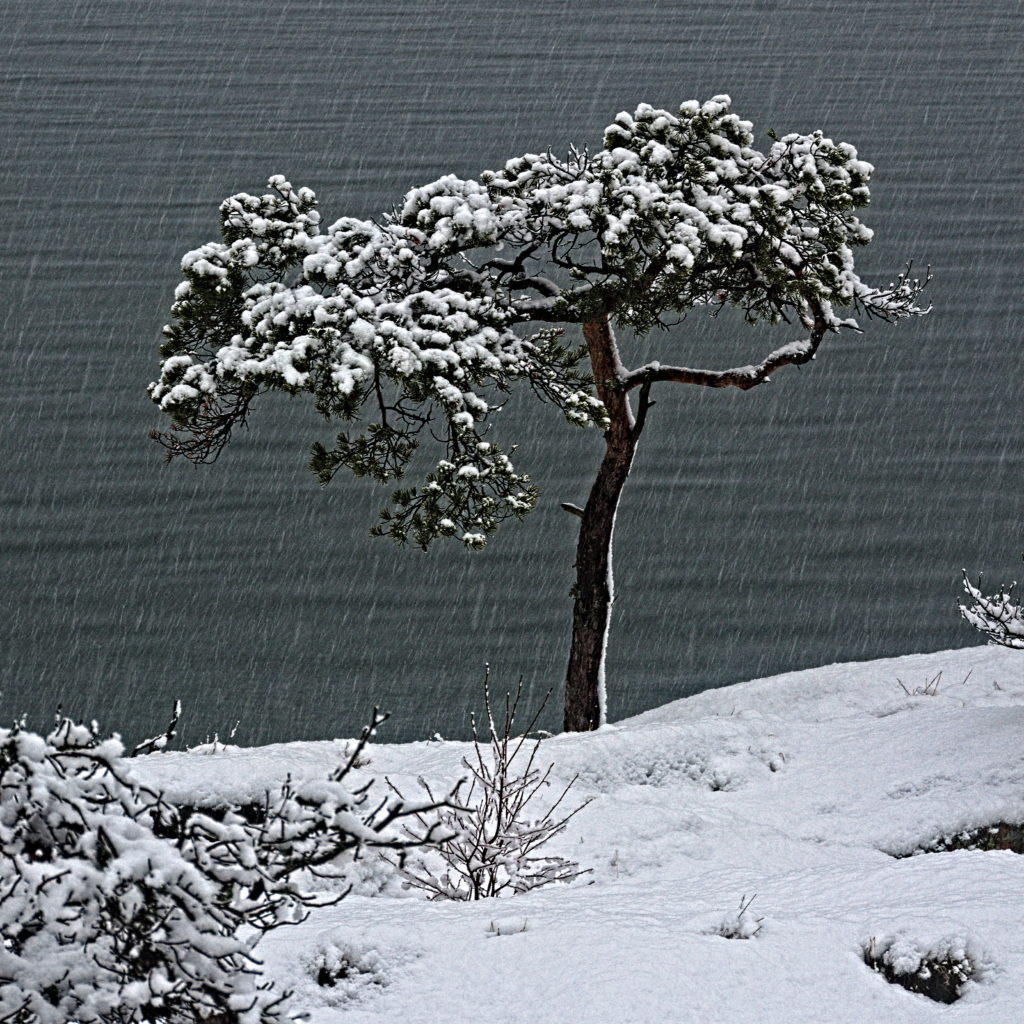 Snön sätter sig på linsen och jag försöker hinna med och torka med trasan. Blåsten tränger kylan och fukten innanför jackan och jag söker mig in till lä i skogen och letar andra, mindre väderutsatta, motiv.
The snow settles on the lens and I try to catch up and dry with the cloth. The wind pushes the cold and the moisture inside the jacket and I seek refuge in the woods and look for other, less weather-exposed, motives.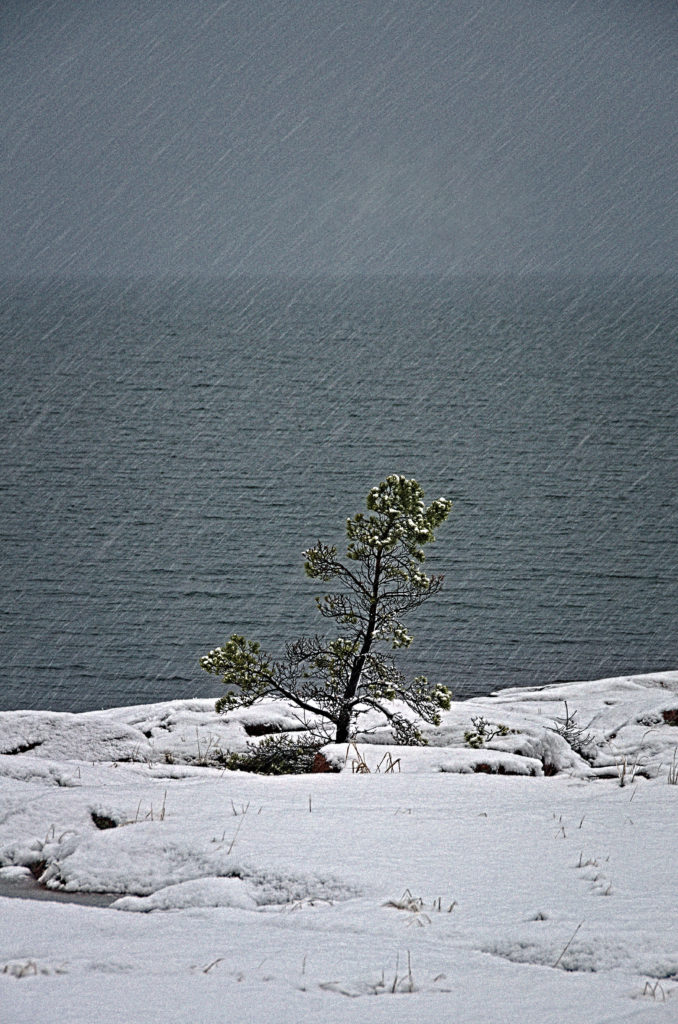 Hemma, stirrandes på dataskärmen, försöker jag hitta något bland alla gråa bilder. Svartvitt eller färg? Mer kontrast eller mindre? Letar på nätet för att försöka förstå mitt bildbehandlingsprogram Raw Therapee bättre.
Hittar en video om att jobba med svartvita bilder med inte allt för bra ljud, men jag börjar testa mig fram, vilket bilderna i dagens blogg får symbolisera. Letar mig fram till Tone Mapping i programmet, för att få mer detaljer i skuggorna och även öka kontrasten.
At home, staring at the computer screen, I try to find something among all the grey pictures. Black and white or colour? More contrast or less? Looking online to try to understand my imaging program Raw Therapee better.
Find a video about working with black and white images with not too good sound, but I start to test myself, which the images in today's blog may symbolize. Looking for Tone Mapping in the program, to get more details in the shadows and also increase the contrast.
Lägger till Tonkurvan, som jag har hållit mig borta ifrån. Jag har aldrig lyckats få till färgerna med den, men här gav det mer nyanser i gråskalan. Sist klickade jag mig in på Kontrast genom detaljnivåer och den lyfte fram både grenar, barr och snöfall i bilderna. När jag testat tidigare så har resultatet blivit alltför hårt och kantigt och det naturliga har försvunnit i väg någon annan stans, men här passade det!
Adds the Tone curves, which I have stayed away from. I have never managed to get the colours with it, but here it gave more shades in the greyscale. Lastly, I clicked on Contrast by detail levels and it highlighted both branches, needles and snowfall in the pictures. When I tested before, the result has been too hard and angular and the natural has disappeared somewhere else, but here it fit!
Jag utlovade is också, men det kommer i nästa vecka!
I promised ice too, but it's coming next week!