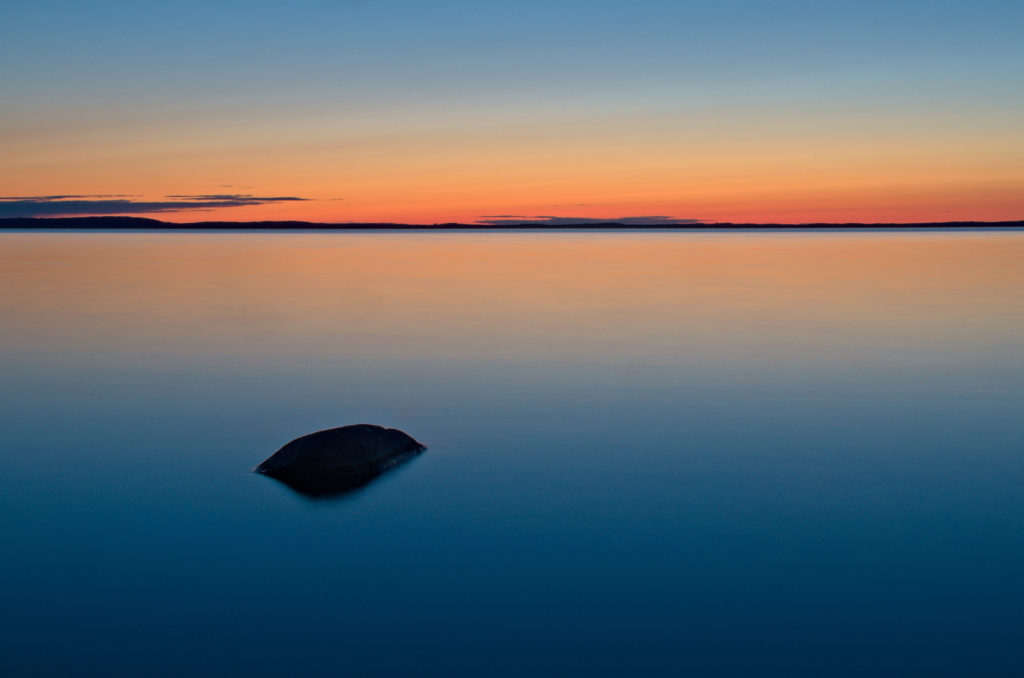 De sista solstrålarna lyser upp de vindpinade tallarna och jag letar linjer i de runda hällarna. Linjer som kan ha skapats för 1 miljard år sedan, men de kan också vara yngre, runt 500 till 1200 miljoner år, när en stor komet slog ner just här och skapade ett gigantiskt hål nästan mitt i Åland.
The last rays of the sun light up the windswept pines and I look for lines in the round slabs. Lines that may have been created 1 billion years ago, but they may also be younger, around 500 to 1200 million years, when a large comet crashed right here and created a giant hole almost in the middle of Åland.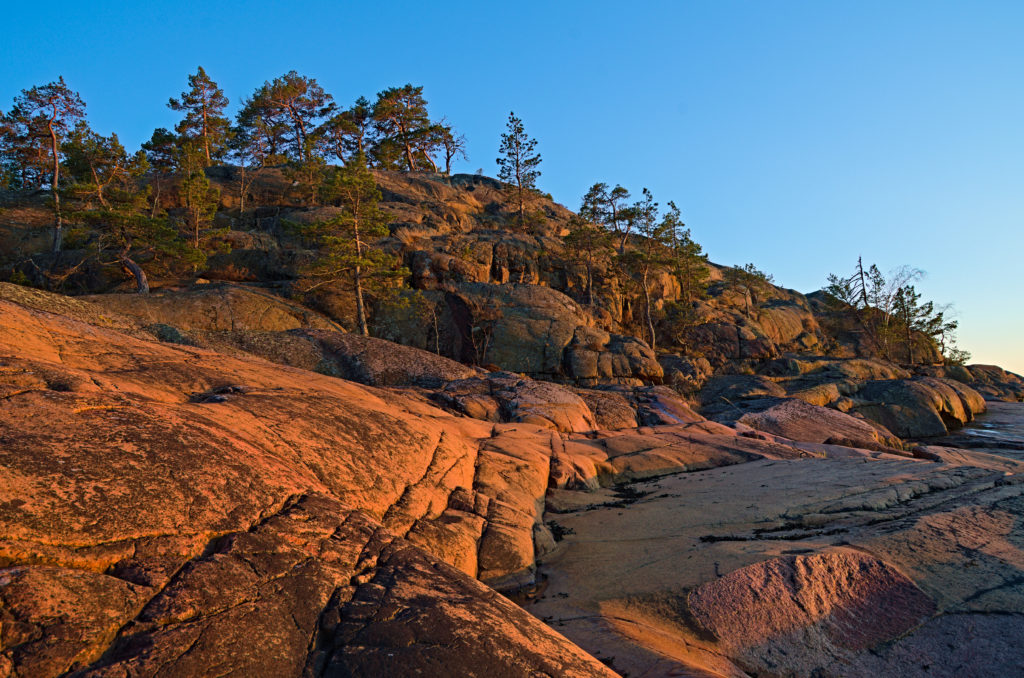 Linjerna far en hit och en dit men de vill inte riktigt leta sig fram mot något intressant mål. Får nöja mig med tallarna, som gemensamt hänger sig fast där uppe på berget som spretiga hårtofsar.
Solen försvinner och stillheten lägger sig runt omkring mig. Vinden får också för sig att ta kväll och tystnaden infinner sig. Går till de sista klipporna där längs stranden. Efter dem börjar vassen och därefter sommarstugorna. Ett privilegium för de som har men jag är glad att detta område fortfarande är obebyggt och tillgängligt för oss andra.
The lines cross each other, but they do not really reach an interesting goal. I have to make do with the pines, which together hang up there on the hill like sprawling tufts of hair.
The sun disappears and the stillness settles around me. The wind also decides to end for the day and the silence ensues. Goes to the last cliffs there along the beach. After them, the reeds begin and then the summer cottages. A privilege for those who have but I am glad that this area is still undeveloped and accessible to the rest of us.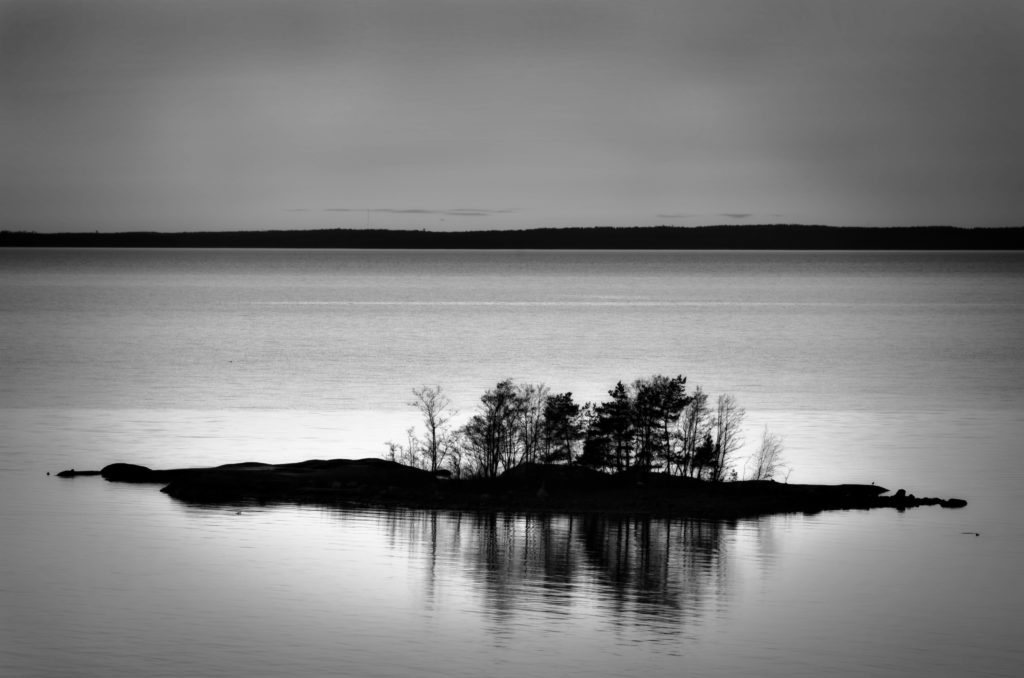 Letar efter den rena bilden och fastnar för ön som ligger där, lite sargad och sliten i det stilla vattnet. Vid datorn testar jag att lyfta fram ön lite extra och få lite liv i himlen men jag är osäker på om det blev bättre än originalet.
Looking for the clean picture and getting stuck for the island that lies there, a little scarred and worn in the still water. At the computer, I try to highlight the island a little extra and get some life in the sky, but I'm not sure if it turned out better than the original.
Sedan börjar färgshowen på himlen på andra sidan Lumparn. Solen leker med sina färger där bakom skogen och ljuset återspeglas ut över det stilla vattnet.
Then the color show begins in the sky on the other side of Lumparn. The sun plays with its colors behind the forest and the light is reflected out over the still water.
Sten, klippa, moln, stilla vatten, siluetter och en målande sol långt där borta blir mina lekkamrater för några minuter när jag fångar dem på bild i olika konstellationer.
Rock, cliff, clouds, still water, silhouettes and a painting sun far away becomes my playmates for a few minutes when I capture them in a picture in different constellations.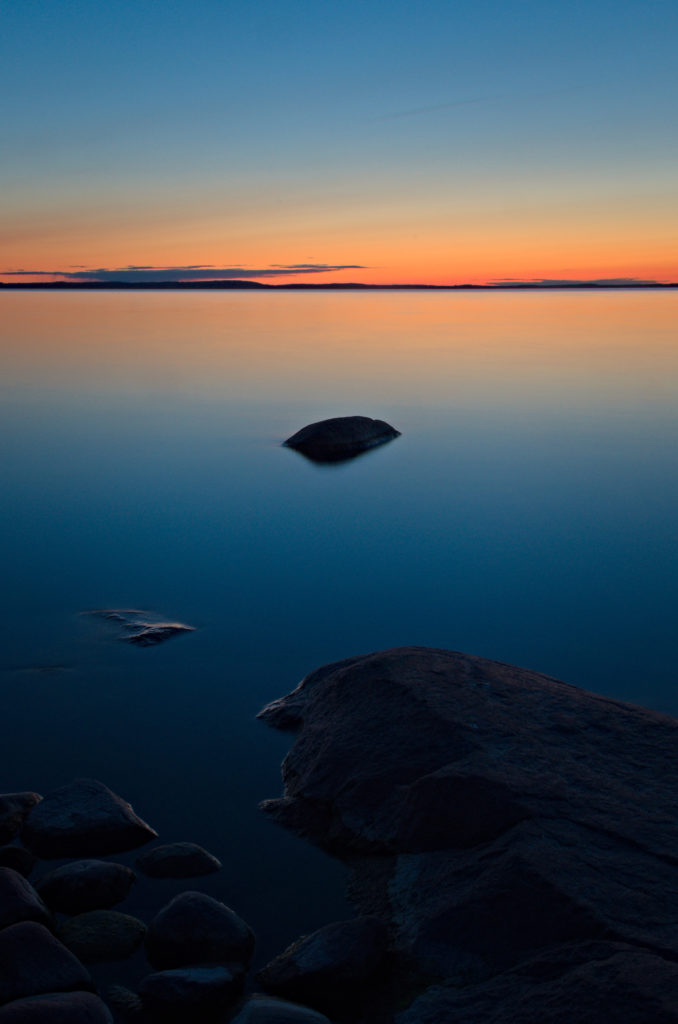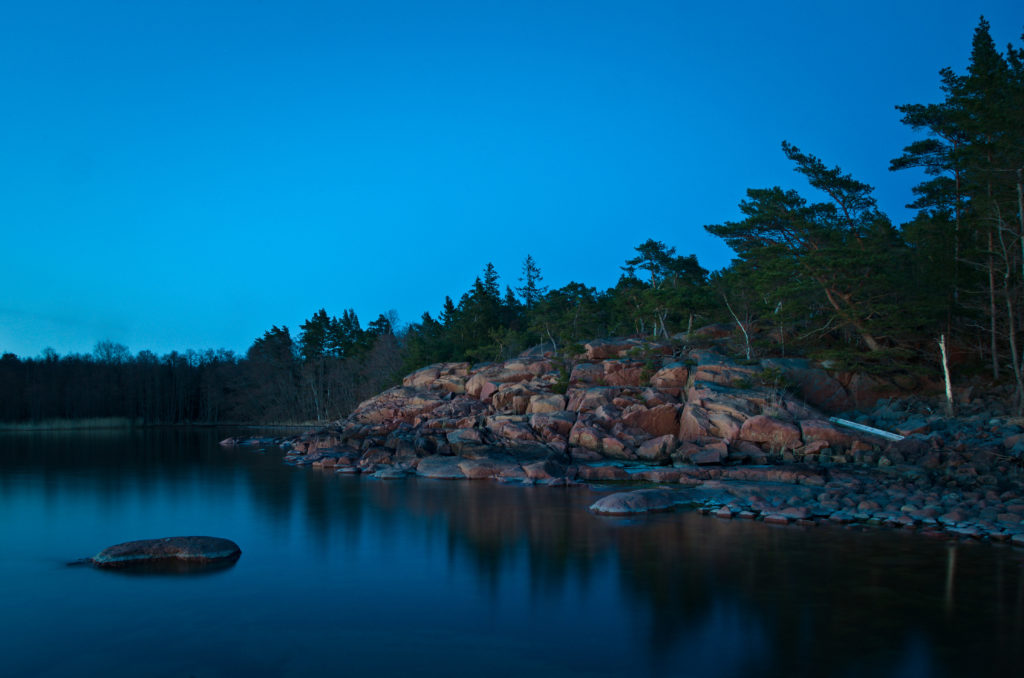 På väg att vända stegen hemåt men får syn på klippan där i dunklet. Jag gillar nattens ljus, om det nu finns något sådant. Det kanske är den blå timmen. Ljuset som finns innan mörkret. Med lång slutartid blir dunklet ljust. Det som inte riktigt går att se kommer fram.
On the way to turn the steps home but see the cliff there in the dark. I like the light of night, if there is such a thing. Maybe it's the blue hour. The light that exists before darkness. With a long shutter speed, it becomes dimly lit. What can not really be seen comes out.
Hälsar på den fyrkantiga stenen som ligger där och ser ut att ha hamnat fel. Hur länge har den legat där? Antar att den valde sin plats efter senaste istiden med utsikt över vattnet och 10 000 års solnedgångar.
Greets the square stone that lies there and looks like it has gone wrong. How long has it been there? Guess it chose its place after the last ice age with a view of the water and 10,000 years of sunsets.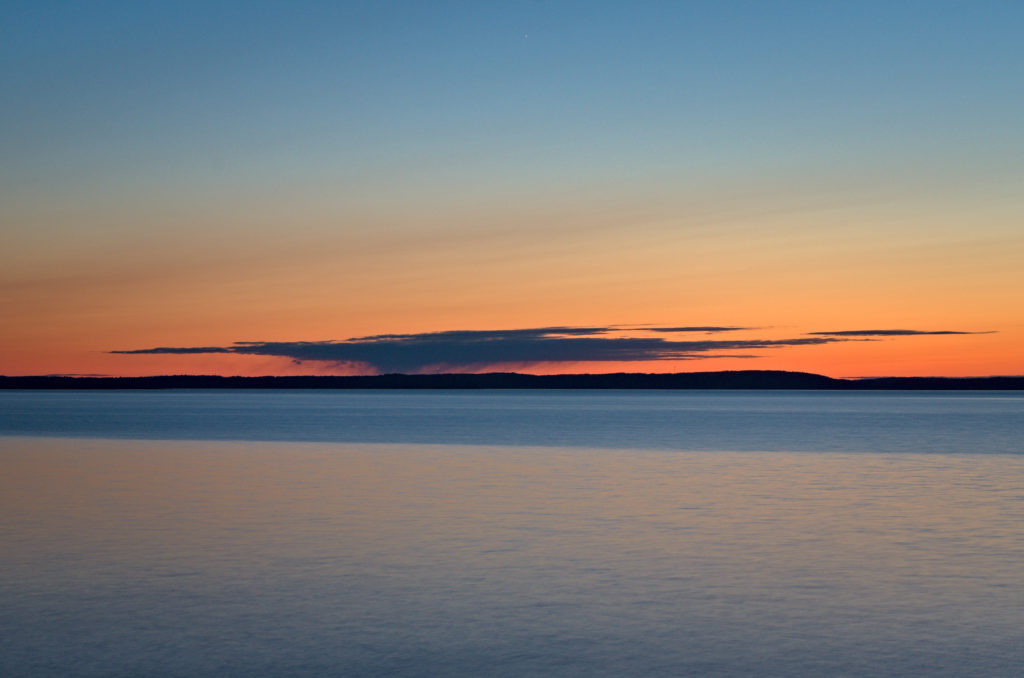 Önningeby på andra sidan Lumparn verkar ha drabbats av ett väldigt lokalt regn. Inte ett moln på himlen men just där ser det ut som något ramlar ner. Men vad vet jag, tänker jag, när jag med stativet över axeln går bort mot bilen. Molnet kanske ligger längre bort och låter sitt vatten över Södra Kvarken.
Önningeby on the other side of Lumparn seems to have been affected by a very local rain. Not a cloud in the sky but only there it looks like something is falling down. But what do I know, I think, when I with the stand over my shoulder walk away towards the car. Tthe cloud may be further away and let its water over Södra Kvarken.