Efter en lång natt i tältets mörker där jag fördrev tiden med att läsa "Jag kan ha fel" av Björn Natthiko Lindeblad, vilket inte gjorde mörkret mindre mörkt, men han levererar många sanningar, började det ljusna igen vid 10-tiden.
Så jag tog mig ut till vattnet, åt lite frukost på klipporna i skydd för vinden och inväntade mer ljus. Fick lite sällskap av en säl som tittade på mig. För mörkt och för långt bort för att försöka fotografera.
After a long night in the tent's darkness, where I spent time reading "I can be wrong" by Björn Natthiko Lindeblad, which did not make the darkness less dark, but he delivers many truths, it started to light up again at 10 o'clock.
So I went out to the water, ate some breakfast on the rocks in protection from the wind and waited for more light. Got some company from a seal who was looking at me. Too dark and too far away to try to photograph.
Solen behagade inte visa sig denna dag heller. Ett tjockare molntäcke än i går från horisont till horisont och samma vind och vågrörelser.
The sun did not want to show itself this day either. A thicker cloud cover than yesterday from horizon to horizon and the same wind and wave movements.
Min plan vara att röra mig fram över klipporna på denna del av ön och se om jag kunde hitta några roliga stenar eller klippor att ta med lång slutartid. Den här bjässen syntes på långt hål, men bäst blev den riktigt nära!
My plan was to move across the cliffs on this part of the island and see if I could find some fun stones or cliffs to take with long shutter speed. This bastard was seen from afar, but the best shot was from really close!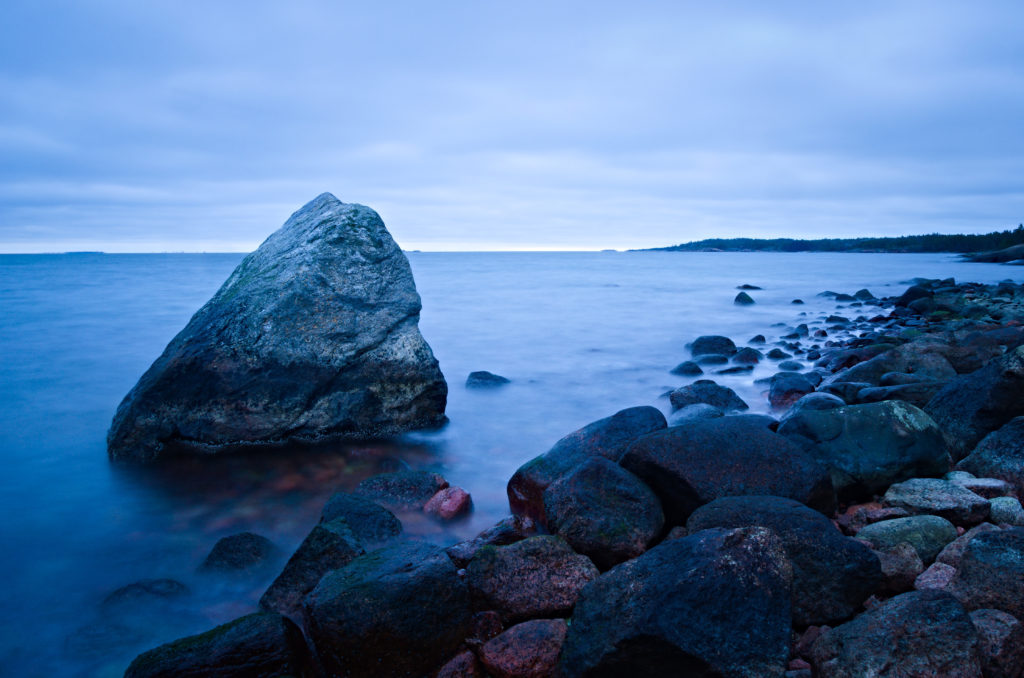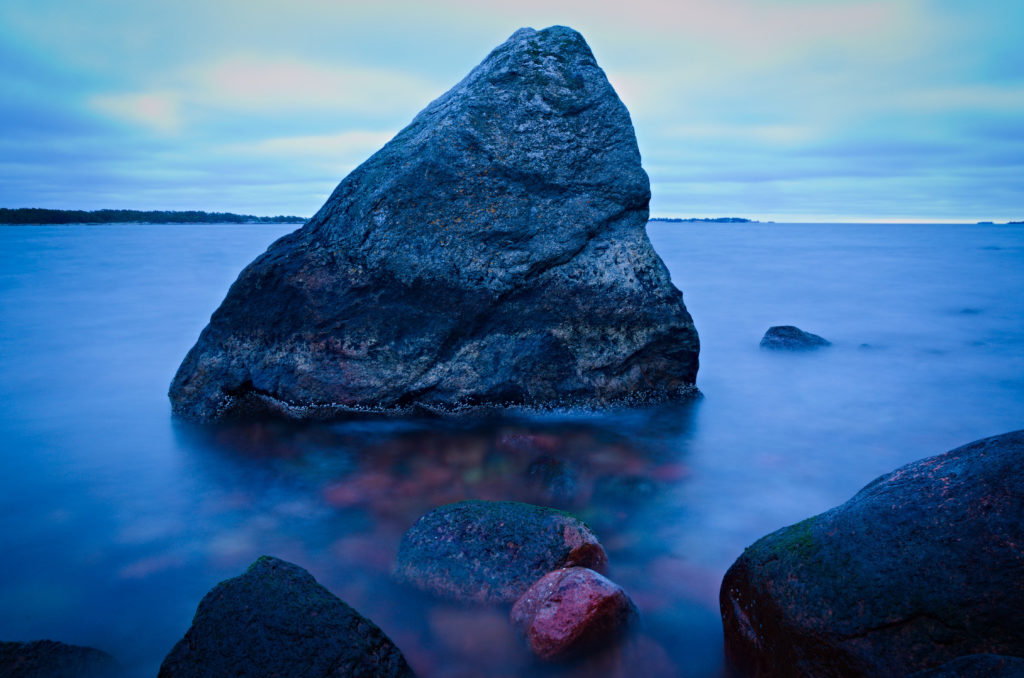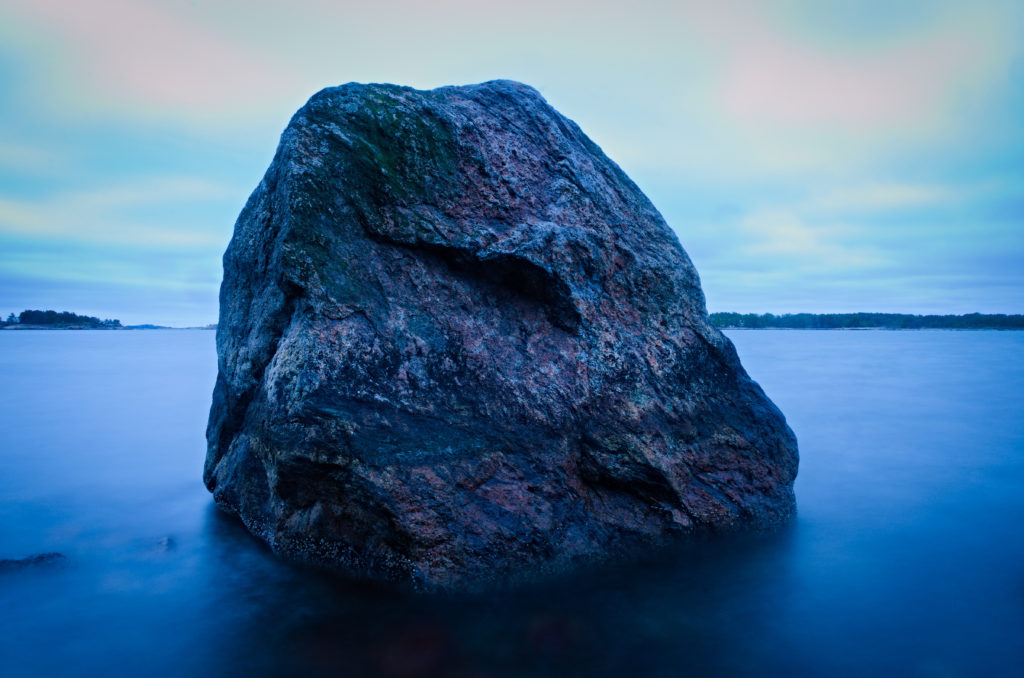 Fler stenar kom i min väg och när solen hade kommit upp en bit så började öarna i horisonten att sväva ovanför vattenytan, som i översta bilden. Har fått lära mig att det beror på att luften och vattnet har olika temperatur och därför bryter ljusstrålarna och man kan se det som är nedanför horisonten. Häftigt!
More rocks came in my way and when the sun had risen a bit, the islands on the horizon began to float above the water surface, as in the top picture. I have been taught that it is because the air and water have different temperatures and therefore the light rays refract and you can see what is below the horizon. Cool!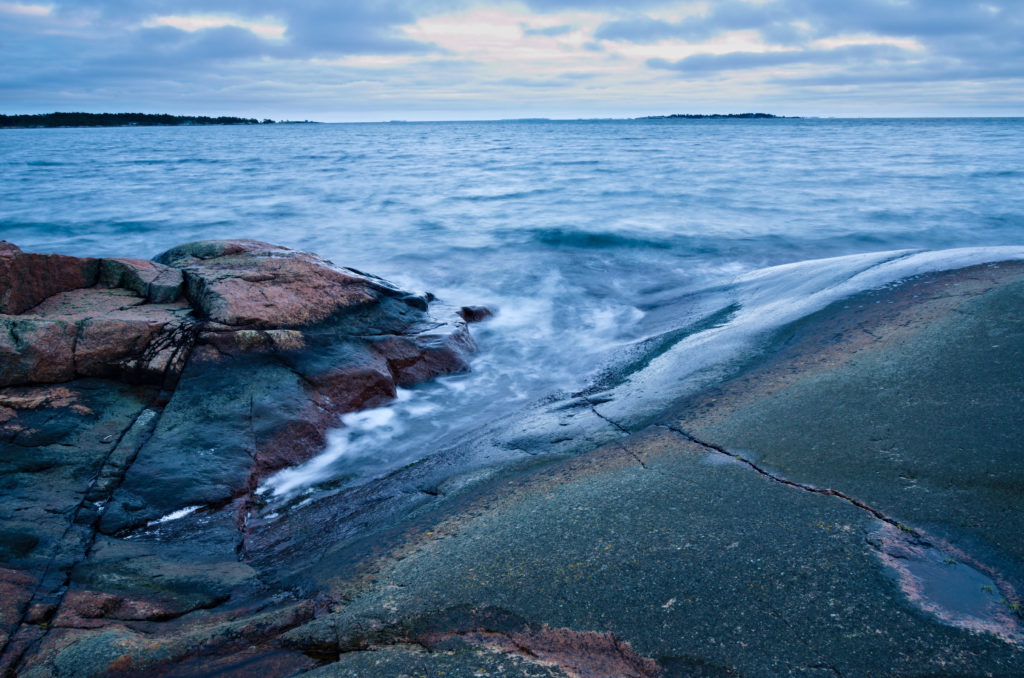 Kyla, moln och blåst skapade en känsla i bilderna som jag gillar. Det dåliga ljuset gjorde att jag kunde köra med ganska långa slutartider utan gråfilter, som jag ännu inte äger några!
Cold, clouds and wind created a feeling in the pictures that I like. The bad light allowed me to photo with quite long shutter speeds without grey filters, which I do not yet own!
Nu var det slut för denna gång från Simskäla. Nästa vecka kan det bli från Lumpo udd eller Mariehamn… eller Hammarudda… Flera val ser jag, så ni får vänta och se!
Now it is over for this time from Simskäla. Next week it could be from Lumpo cape or Mariehamn … or Hammarudda … I see several choices, so you have to wait and see!